Farmstead Taps Machine Learning to Make Smart Shopping Lists
Get great content like this right in your inbox.
Subscribe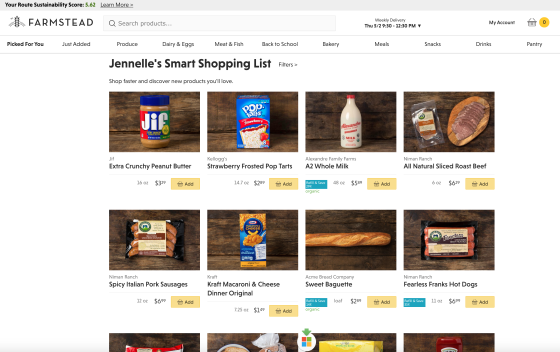 San Francisco-based online grocer Farmstead has launched a "Smart Shopping List" tool that uses machine learning algorithms to help shoppers efficiently complete their lists.
The alternative wholesaler operates a delivery service model that primarily focuses on natural, locally sourced and organic products and incentivizes the creation of neighborhood-wide "collectives" (or at least residents along the same delivery route) by promising free delivery on all orders.
Going beyond simply recommending popular products, Farmstead's new tool mines weekly shopping history, virtual cart contents and other buying signals to make predictive recommendations.
"One of the biggest challenges to buying groceries online is to build your shopping cart rapidly," said Farmstead co-founder and chief executive officer Pradeep Elankumaran in a media release. "Since there are no physical aisles to walk through like a traditional supermarket, and only so much scrolling one can take, it's a true challenge to help customers find the right products at the right time while also suggesting new ones they'll love in the few minutes they spend each week tapping buttons online."
Using the data, the tool ranks products based on the individual shopper's behavior and wellness preferences, while also weighing the collective behavior of other like-minded shoppers who purchase similar items.
According to Farmstead, the tool is also able to consider more complex factors, such as day of the week and seasonality, to make such recommendations as heavy cream during Thanksgiving or egg dye around Easter. It also can recommend products compatible with things already selected, like cream cheese to go with bagels, as well as programmatically surface seasonal products such as fresh local strawberries in the summer.
And for Farmstead, the proof is in the pudding. The online grocer found that more than 40% of shoppers used the smart shopping list when given the option, and those who did were 3.5 times more likely to add suggested items to their baskets.
The smart shopping list is already available to existing Farmstead shoppers. New shoppers can opt in after their first order has been placed, so the system can begin analyzing their preferences.
Farmstead also recently launched "Refill & Save," a subscription service that lets shoppers set up automatic weekly refills of their staple items. "It's features like refill & save and smart shopping list that will make online grocery buying less overwhelming and more appealing to the average family," Elankumaran said.