ERP Transformation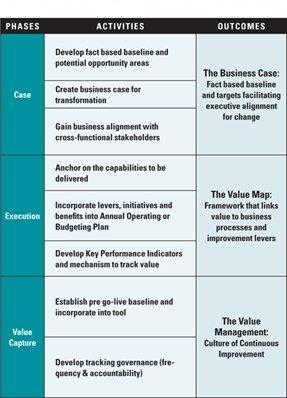 Systems infrastructure is viewed as a "cost of doing business" analogous to doing basic maintenance on one's home. Often these efforts are focused solely on the technology components, thereby not using project efforts as a means of advancing the core capabilities of the organization. Consumer Packaged Goods (CPG) company executives are increasingly looking for the tangible business case benefits of changing, upgrading or merging (due to acquisitions) their core Enterprise Resource Planning (ERP) system and related business capabilities. Recent comments from executives highlight the frustration:
"We have invested hundreds of millions in our systems and have not been able to identify where the benefits are."
"On-time, On-budget without benefits … Is a net loss."
Driving Value
Achievement of true operational value and quantifiable business returns is more than methodology and business case. It requires a very different attitude and commitment at all levels of the organization and begins with the basic way that the program is announced and communicated. Most transformation programs take on the name of the application suite being deployed (i.e., SAP, Oracle, Workday, etc.). The focus and discussion must shift from tools to value and it becomes a business-led transformation program versus an IT-led project.
A value accretive, business-led transformation must fundamentally address six primary capability-developing questions:
What are the overarching objectives, goals, and strategies of the program?  
How will success be measured and what are the driving operational metrics for the business?
What is the scope of capability to be delivered and how do the various in-scope areas interrelate with the rest of the business?
Does the company possess the talent and skills required to succeed in the global marketplace?
What are the leading processes, policies and procedures that the organization must adopt?
What is the right mix and balance of technologies and applications to support and reinforce the new capabilities?
For realizable value capture a disciplined approach, focused across the phases of a program, has proven to be essential for meeting benefit objectives.
Our experience suggests that for the above approach to be successful it is critical that key partnerships be formed across all functions, in particular between the technology (i.e., CIOs) and operations (i.e., COO, VPs) leadership team through every phase of the cycle.  CPG companies following such an approach have seen their baseline costs reduce by 7 percent to 15 percent over a period of two to three years across key operational functions that include both COGS and SG&A.