Elmer's Products is Open to Ideas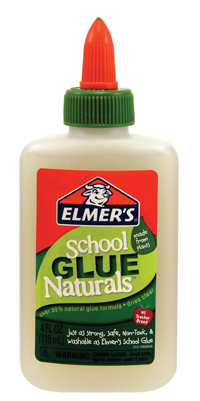 Innovation efforts at Ohio-based
Elmer's Products, Inc.
have changed dramatically recently. Up until two years ago, individual business leaders handled new product development internally. Today, the company has a dedicated Innovation Team filled with individuals with very unique skill sets that are ideal for the job. This team works across all the business units and coordinates efforts internally and externally. It is charged with identifying external partnerships that can be nurtured to bring new, meaningful technologies to the marketplace. And it has also brought the "consumer focus" back to the organization through rigorous consumer research and a new consumer outreach program. In this exclusive interview, Joe Wetli, director of Innovation and New Business Development for Elmer's, reveals how he is helping to organize the company's culture around innovation.
What value would do you assign new product development within Elmer's today?

WetlI:
Our innovation efforts help create value on a number of fronts. First, these efforts are intended to create and capture growth opportunities within existing categories as well as new spaces for the company. We intend to launch products that deliver significant benefits to consumers and help make their purchase decisions easier. Innovation also helps drive a progressive culture at Elmer's that focuses on consumers. We not only want our employees to be exposed to real consumers during on-site focus groups, but we also ask them to participate themselves, putting on their own consumer "hats." Additionally, innovation can help keep our historic brands (including Elmer's, X-ACTO and Krazy Glue) relevant. Consumers trust our brands to deliver quality. We want them to know us for understanding their needs within our categories and helping them be creative. Open innovation pushes us to step outside the traditional walls of Elmer's and seek new technologies by identifying and partnering with intelligent people who work with us on some pretty unique projects. The spirit of open innovation demands sharing of knowledge and experience, and that is really expanding our world of opportunity.
Elmer's introduced a School Glue Naturals line this year. Did consumer insights lead Elmer's to pursue entry into this category?

WetlI:
When we look for consumer trends, we not only look at our own categories, but many others. The trend of consumers having interest in more natural and organic products has been a trend in food for well over a decade, but we also see it in many other categories, such as cleaning supplies and cosmetics. We identified this as an emerging area of importance with our consumers as they look for more products to support their beliefs. We are happy to say that our traditional Elmer's School Glue is safe and non-toxic, but we wanted to identify businesses and academia that were researching natural adhesives. We found a few good partners and continue to leverage their learnings. We understand School Glue Naturals targets a smaller audience, but we feel it is important to be strong category leaders and this is an example. This product has seen a very positive response in the market. We launched initially in Canada and it has continued to become a larger portion of the category mix. We are just getting started in the United States, but initial response has been favorable.
Can you explain the drivers behind the June 2013 launch of Elmer's Open Innovation Portal?

WetlI:
Since we started our open innovation efforts, the portal has been on our wish list. Our first priority was to engage our employee base and help foster the transition to a culture of Innovation. Our next step was to engage our supplier base. Once we felt comfortable with our process and progress, the portal was the third phase in which we engage with inventors who have patents on ideas. We've been very pleased with the response – even a bit surprised! The quality of the ideas has been great and we are actively pursuing a handful of inventors as we speak. Our goal is to identify patented ideas that could be meaningful additions to our brands. It's about access to the idea as opposed to ownership of the idea. Our final phase will be to engage with all consumers who want to share ideas with us.    
What's in store for open innovation at Elmer's?

WetlI:
We're just getting warmed up! We're very excited about the pipeline of projects we're working on, and we're making excellent progress identifying potential partners. The next phase is to mine these partnerships to see which ones are the best fits for our culture and which can deliver the best results. It's a long process and you can't just turn on a switch and have results. Innovation requires a lot of trial and error, and often delivers more failure than success. That being said, we fully embrace this and are committed to the journey. We are looking for partners with the same mentality. When you combine great ideas with hard work, smart people and a 'can't lose' spirit, there's no telling what we can accomplish!
---
FAST FACTS
"Be committed to your innovation efforts. Understand that it is a journey. You'll need to grow just as much as you are wanting the bottom line to grow."
— Joe Wetli, Director of Innovation and New Business Development,
Elmer's Products. Inc.
Company at a Glance
Elmer's Products, Inc. has been a trusted brand and industry leader for more than 65 years. It produces a variety of well-known adhesives, arts and crafts, educational and office products for use at home, school or business.
Going Au Natural
Reinforcing its commitment to innovation and to supporting consumer demand, Elmer's Products, Inc. introduced Elmer's School Glue Naturals in April 2013 — a school glue made with naturally occurring ingredients and available in recycled packaging.
An Innovation State
In January 2013, Elmer's Products, Inc. announced plans to participate in the Ohio Third Frontier Open Innovation Incentive (OII) Program, which aims to help middle market companies, with revenues between $10 million and $1 billion, accelerate their adoption of open innovation to drive growth.
Sticking Together
Thanks to the Ohio Third Frontier OII Program, Elmer's has active projects with both NineSigma and Yet2.com underway. The latter resulted in the launch of the company's new open innovation portal, which invites innovations under well-known brands such as Elmer's, Krazy Glue and X-ACTO.