Cross-Functional Collaboration ... Collaborate to Survive
Get great content like this right in your inbox.
Subscribe
CPG companies are turning away from the old silo mentality – perhaps just in time

In 2015, two years after being acquired by Hong Kong-based food producer WH Group, Smithfield Foods introduced a new centralized operating model dubbed the "One Smithfield" concept. What began as a way to "capitalize on our size to better support our brands and gain supply chain efficiencies," says Julia Anderson, global chief information officer of Smithfield Foods, has since morphed into a complete organizational overhaul — including a new COO, Dennis Organ, appointed in January 2019 — and a new communications system to share ideas and information across the entire company.
"We implemented a greenfield ERP (enterprise resource planning) program, and we built an enterprise project management office to track all growth initiatives," recalls Anderson. "Now we've added an idea tracker, a collaboration site that allows us to cross-collaborate functions with tools and share ideas and solutions with universities, think tanks, startups, agencies and trusted partners. It's an opt-in system. It began in partnership with IT and growth and emerging business, and then we opened it up to supply chain, manufacturing, engineering and the CMO office. We now have plans to expose it to the entire enterprise."
Here's how the system works: "Let's say we have a team going out to work with our partners in Silicon Valley to look for a startup opportunity, and we have business outcomes in the supply chain around sustainability or in marketing around engaging consumers through our website," Anderson explains. "We'll be able to publish that out and we'll have people able to attend meetings or be a part of the deal flow. It allows us to get the right personnel in the room and take decisive action on next steps."
She adds: "It's been a huge change. The new structure affords us a much more streamlined way to collaborate and make decisions."
Culture Is the Key
Smithfield Foods' evolution illustrates how much work goes into transforming a traditional CPG company into a truly collaborative environment. In theory, cross-functional collaboration may seem like a simple idea: encourage teams from multiple departments and functions to work together on mutual business objectives.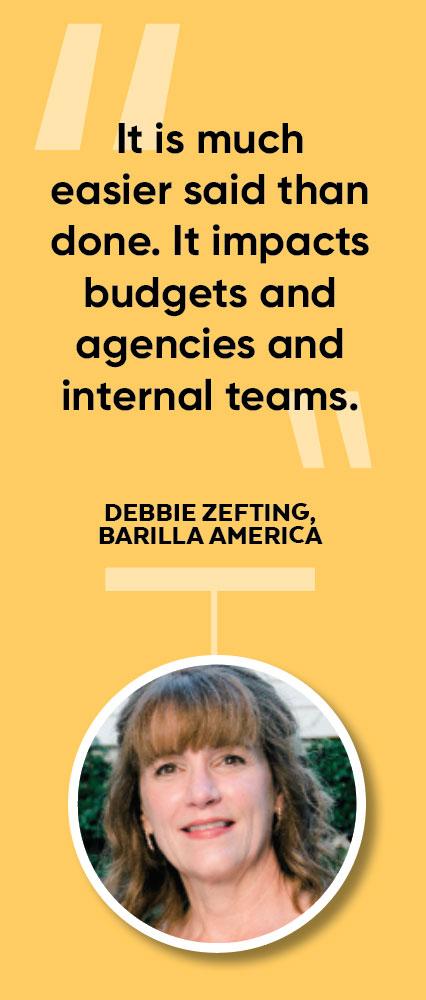 In reality, it is a lot more difficult. "It is much easier said than done. It impacts budgets and agencies and internal teams," says Debbie Zefting, director of shopper strategy and engagement at Barilla America. "I think most companies know this needs to happen, and conversations are starting, but you still see overlaps or white space around the issue."
New tools and formal restructuring certainly can help, but they are only part of the solution, says Anderson. "Technology is an enabler. Successful companies have built a collaborative mindset into their culture," she says. "This can be difficult for many CPG companies because it is not natural to work on shared business outcomes as a team."
These comments speak to the heart of a persistent problem — "breaking down the silos" — that CPG marketers have been debating for years. So why hasn't more progress been made before now? Some say it comes down to paralysis and fear, which is understandable: Marketers are under constant pressure to prove ROI in order to justify spending, if not their own roles. Perhaps as a result, many marketers are reluctant to allow other teams and functions, both inside and outside the marketing department, to take credit for their successes and share in ownership of the brand.
Whether this attitude stems from fear or outright ego, experts say it is a surefire way to dampen collaboration and impede progress and innovation. "Too many marketers think of collaborating as, 'I'm going to get a bunch of people to do what I want them to do,' versus, 'I'm going to get the smartest people into the room to become part of a multidisciplinary growth team that's laser focused on the consumer,'" says Heidi Froseth, a former CPG marketer and veteran agency executive in the shopper space. "It takes courage to collaborate. It amounts to saying that you don't have all the answers."
It is not so much the silos themselves that are the problem, adds Froseth, but rather the ways in which marketers allow the structures to thwart collaboration and original thinking. "Existing silos could work if the organization has key horizontals working across these initiatives. You don't necessarily need each discipline on each team. Rather, it is often episodic and you need to bring in the right expert for the right project."
In fairness, committing to a departure from the entrenched silo approach is a lot less complicated for smaller and more nimble companies than the likes of Procter & Gamble. Just ask Peter McGuinness, chief marketing officer at Chobani. (See "Hall of Fame Q&A" on page 20.) Less than two years ago, Chobani united 16 previously distinct departments under the "Demand Creation" banner. Today, all sales and marketing departments, along with product development and insights, are part of the demand creation team that report up to McGuinness.

McGuinness acknowledges that the realignment was easier for Chobani to do because, as a relatively young company, "we didn't have 40 years of legacy systems" to deal with. Even so, it has been a complex undertaking. The planning process and regular cross-functional meetings, he says, are "a big hot mess, but it's a fun mess."
He adds: "The teams understand each other; there is sympathy and empathy across departments. The knowledge transfer is also great. Everyone understands the business."
A Matter of Survival
CPG companies can no longer get away with merely paying lip service to collaboration. The issue is now a matter of survival. Multiple existential threats and an ever-changing consumer are forcing companies to rethink the way they operate – or else, as evidenced by the recent struggles of major food companies like Campbell Soup and Kraft Heinz, suffer the consequences. Not only are traditional packaged goods companies trying to combat dwindling product/brand relevance, they are doing so while largely still relying on a business model that can no longer address all of the ways in which today's consumers engage with brands, shop and make a purchase.
"Most companies are still set up in traditional organizational teams. However, many traditional marketing tools are now becoming shoppable and people are coming in and out of shopping experiences," notes Zefting. "As a marketing team, we need to think about the experience we want our consumers to have and then work toward that goal, regardless of organizational silos."
Silos exist in many forms, yet data silos are arguably the most corrosive to traditional CPG companies. Channel-agnostic buying and selling has accelerated the need for a singular view of the consumer. Thus, data and insight sharing must extend throughout the organization. It is critical for sales, marketing and functions down the supply chain to be working off the same set of data in order to translate those "shoppable" moments into concrete behaviors that lead to a purchase.
"With unprecedented choices, today's consumer is clearly now experiencing a path to purchase that hasn't been linear in a while," says Sri Rajagopalan, vice president of digital new business models at Johnson & Johnson. "This means when a product is engaging with a consumer, that moment may be a complex mix of a product introduction or reinforcement of value and yet also bring on the opportunity for the consumer to complete the purchase transaction."
Because so many new products are introduced and sold through channels that operate beyond the traditional store, says Rajagopalan, sales and marketing can longer exist as independent functions.
"Social media vehicles have given the wonderful experiences of one-to-one communication with brands and e-commerce websites have created opportunities such as 'answered questions.' Then we have direct to consumer brands that communicate, introduce, engage, connect, sell, sample and encourage user-generated content. This is marketing and selling all in one," he says. "As the industry evolves and digital penetration increases, I believe commercial roles will be a blend and will need to understand both brand equity and consumer efficacy, as well as be able to conduct displays, win search (SEO/SEM) and deliver value to the consumer in what they sell."
Looking Ahead
For CPG marketers looking to the future, e-commerce is perhaps the incentive they need to forge a deeper culture of collaboration. The share of CPG sales derived from e-commerce is expected to double to 10% in the next three years, according to research firm Statista. In the age of Amazon, companies need to establish better cooperation, data sharing and strategic alignment between their digital and brick-and-mortar retail sales operations. "In most companies that I am aware of, the shopper marketing teams work on the pure play e-commerce customers," notes Zefting. "However, Amazon has such an influence on non-Amazon sales, we need to have the conversation on when they are a marketing asset and when they are a customer."
While shopper marketing has fostered a fair amount of interplay between brand marketers and retail category managers, sales, marketing and merchandising teams, this idea of working as a single coordinated unit has not necessarily spilled over into the broader organization. But that may be changing.
"I see more cross-functional boards that work together — especially on e-commerce — across supply chain, packaging, logistics, finance, marketing and selling," notes Rajagopalan. "I've also observed a trend where dedicated e-commerce leaders spearhead these efforts at many organizations, including retailers. When these functions work together, e-commerce becomes part of the strategic plan that looks forward a few years, and when execution happens, it delivers upon set goals."
So who will drive further change? According to Rajagopalan, brand marketers have a direct role to play in the industry's push toward greater collaboration. "Since traditional marketing roles are the primary communicators for brands, it is important they adapt and understand this paradigm shift."
Others say that change must come from the top. "Senior leadership should have a vision for alignment on what their big bets are, and they should put in place a multidisciplinary project team that's responsible for delivering that big bet," says Froseth.
Anderson adds: "I do think brand managers can make a difference. Think of ways to do things differently using data. The whole CPG organization really needs to think like a startup."