10/05/2016
Crayola Dissects the Easter Basket
Study reveals when, where and how mom shops – and for what
Easton, Pa. — The typical child's Easter basket contains more than just chocolate bunnies and marshmallow Peeps, and moms are out shopping for Easter more than just a few days beforehand, according to research conducted in the spring by Crayola, a subsidiary of Hallmark Cards.
Prompted by retail partners who asked if it had any such research, Crayola conducted an online survey that garnered more than 740 responses from people who did not know Crayola had sponsored it. It was fielded the day after Easter – the fifth-largest gift-giving retail holiday – with shopping fresh on participants' minds.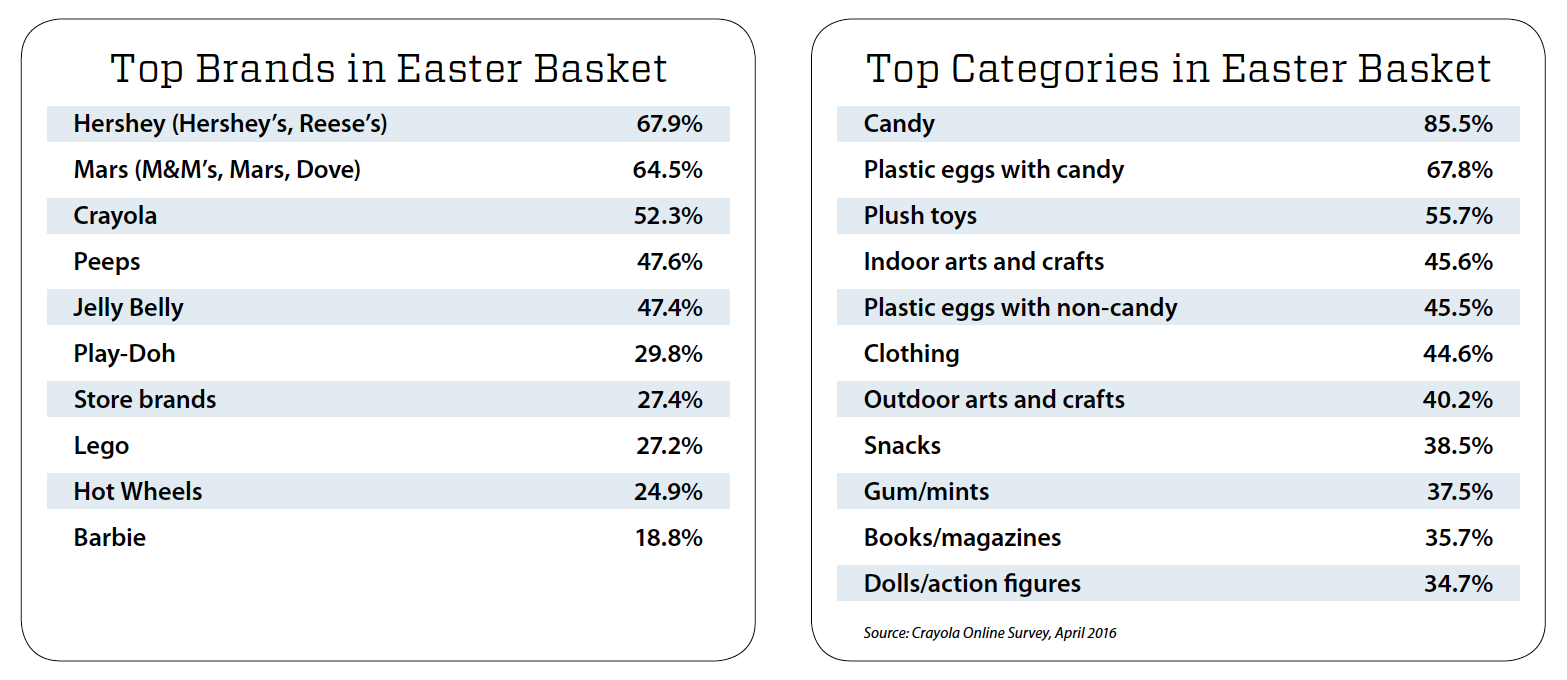 The survey found that the average Easter basket contains 14 items worth a combined $42.50. While candy unsurprisingly is the most common type of item – it's contained in 85.5% of baskets – and plush toys (55.7%) were the most common non-candy item, the survey found that arts-and-crafts for indoor (45.6%) and outdoor (40.2%) use were also high on moms' minds.
"We compete in some categories like sidewalk chalk" in addition to crayons and markers, says Rick Stringer, vice president of customer solutions for Crayola. "We know we're in gift baskets, but we never had the 'quant' data to back it up. … What we call the 'children's creative experience' category – arts and crafts – is very prevalent in the Easter basket."
The Crayola brand itself enjoyed a strong showing. While products from Hershey Co. (67.9%) and Mars Inc. (64.5%) appeared in approximately two-thirds of baskets, Crayola finished third overall (52.3%), ahead of Just Born's Peeps (47.6%) and Jelly Belly (47.4%). The next highest non-candy brand was Hasbro's Play-Doh at 29.8%.
"We knew we had a strong brand, but we didn't realize it was that strong," says Stringer, adding that the results show that retailers need to stock items other than candy. "Make sure you have a good representation of well-known brands that mom is looking for. Having arts-and-crafts items in your section is an opportunity to help convert moms."
The most sought were bubbles (68.4%), crayons (65.2%), coloring books (60.3%) and outdoor chalk or paint (58.1%).
Retailers also should pay attention to the feedback about when and where moms shop, Stringer says. Where he might have expected most to shop the week immediately before Easter, only 44% did so. Another 31% shopped one to two weeks before, and the rest even more in advance.
By far, participants said they frequented Walmart (83%) the most for their Easter shopping, followed by Target (45%), Walgreens (23%) and Amazon.com (21%). Nearly half (46%) purchased at dollar stores and 29% went to grocery stores. Shoppers didn't necessarily target Easter displays, with 44.6% saying they always sought those out and 57.5% saying they always looked for an Easter or spring aisle.
"The finding there for us is just to make sure, if you're a retailer, that you have that set, and it's stocked and ready for the Easter push," Stringer says. "And shoppers are shopping all over the place. … The mass players do a nice job of creating a strong Easter seasonal set. And because grocery is part of mom's routine shopping circuit, there's a huge chance for grocery to convert" during Easter shopping.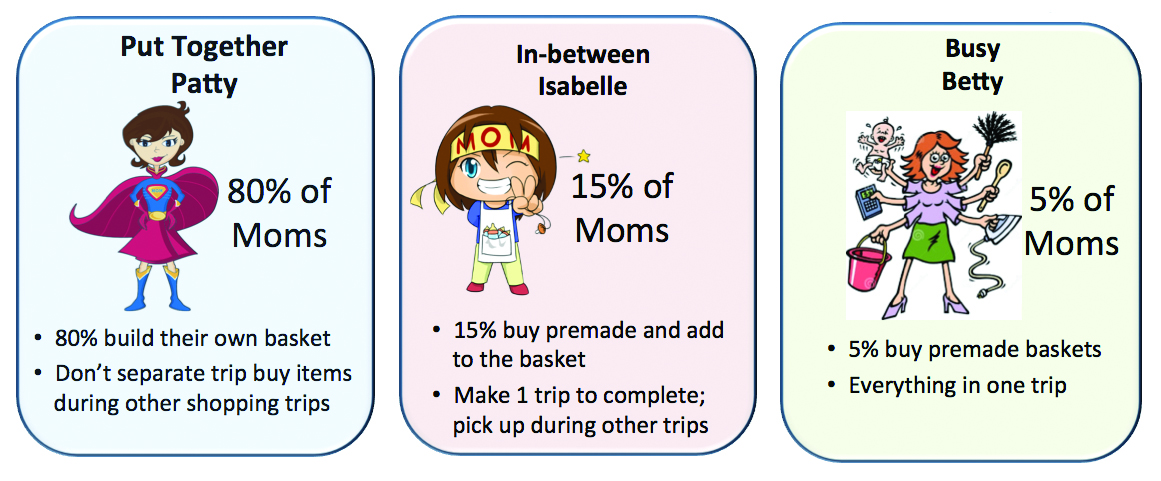 The survey found that the vast majority of moms, characterized as "Put Together Patty," built their own Easter basket with items from a variety of shopping trips. Another 15%, dubbed "In-between Isabelle," bought premade baskets but added at least some a la carte items. And only 5%, known as "Busy Betty," simply bought a premade basket and left it at that.
Other findings related to shopping habits were that 36% of Easter shoppers work from a specific budget, 41% buy the same number of items per child, 34% spend the exact same amount per child, and 42% wanted to make sure that their items all fit into one basket, with perhaps slight overflow.
Finally, an issue to keep in mind is that when the holiday falls later in the season – it will be April 16, 2017 – the sales of outdoor creative activities spike. Stringer believes there could be a 75% sales increase in such items. "Activities like sidewalk chalk see a pretty massive increase with a late Easter," he says.