06/01/2010
Collaborative Promotion Optimization
One of the biggest rifts existing between manufacturers and retailers lies in their inability to truly collaborate on trade promotions. At the core of this quandary is a mismatch along three dimensions: Culture, personnel and technology. A new research model, "A Guide to Improving Manufacturer/Retailer Collaboration for Promotional Activities", from
Gartner Inc.
and the
Promotion Optimization Institute
examines the key characteristics of each dimension and provides an assessment tool to foster greater understanding. Here is a summary of this revealing new effort.
Collaboration in trade promotion is defined as jointly planning and executing promotion activities that are mutually beneficial. However, aside from some tactical scorecards, manufacturers and retailers lack meaningful tools to assess which trading partners are most capable of partnering, to determine which ones have the same partnering profiles or to engage with partners that exhibit certain profile characteristics. To truly improve your collaboration for promotional activities, you as a manufacturer must:
Understand your company's and your trading partners' abilities to partner on promotional activities based on culture, personnel and technology profiles.
Develop a clear vision and strategy for promotion collaboration. Focus internally on being a better promotional partner and seeking the best matches in the marketplace.
Recognize that partnering with everybody is not an option.
The three primary characteristics or requirements for collaboration to take place are:
Culture is the foundation for behaviors and extends from the executive suite to the mailroom. Metrics -- particularly metrics that are shared and cascaded from top to bottom -- are critical in sharing goals and monitoring behaviors. Relative to the promotion cycle, the culture element has much to do with what an organization seeks to obtain from promotion, how it treats its partners, whether it is honest with internal and external participants, whether it seeks to be an innovator or follower, and how transparent the process is.
People are the foundation of execution. They interpret the culture and represent the culture. As it relates to promotion, it takes the right people in the right quantities working together to plan and execute in concert with their trading partners.
Technology is not a foundation element because it is merely an enabler. It gets its purpose from the culture as it is configured to the business requirements and requires people to enable the execution. Therefore, it reinforces the culture and people dimensions by facilitating metrics and communication, improving training and institutionalizing behaviors.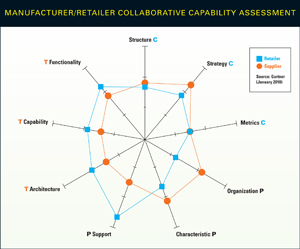 Once trading partner profiles are established through the key characteristics they can be weighted to assess ability to collaborate across the C (culture), P (personnel) and T (technology) dimensions (see chart on the opposite page).
This example would indicate that the retailer has substantially better technology than its manufacturer counterpart while personnel and culture show mixed results. As a result, resources and focus can be directed at the subcategory and key characteristic levels to address the gaps.
There is no prescriptive way to help close the gaps. This is because the combinations of tactics are numerous and complex based on who is on the favorable side of the gap and how highly both score on an absolute basis. For example, if one partner scores a five in an area to the partner's three, there may be a very different set of tactics required than if, in the same category, one partner scores a three to the partner's one. Therefore, for each gap in the spider diagram, the partner performing the exercise will need to look at the component capabilities for that rating and determine a course of action to improve capabilities. The formula for success will be as individual as the two partners being evaluated.
To request a full copy of this research, please contact Mike Kantor at [email protected] or Dale Hagemeyer at [email protected].