Catching up with Mansour Zadeh, CIO, Smithfield Foods
Get great content like this right in your inbox.
Subscribe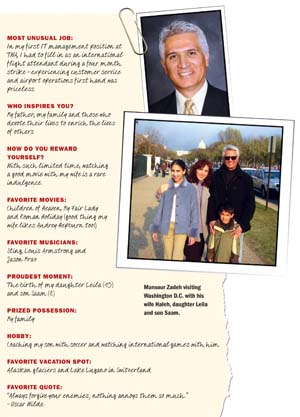 CGT
Executive Editor Kara Romanow catches up with Mansour Zadeh, CIO of
Smithfield Foods
, to discuss the challenges of controlling material costs and get his perspective on what drives retailers and suppliers to better collaborate. He also shared some secrets for running a successful global IT operation, just before he had to fly overseas again.
What keeps you up at night?Zadeh:
Pricing and raw material costs. We operate in a cyclical industry, and our results are significantly affected by fluctuations in commodity prices for hogs, cattle and grains. We are in an era of rising commodity prices that has dramatically increased our raw material costs. It is very difficult to pass along all these cost increases to consumers. This is compounded by the fact that the present global protein supply/demand curve is not balanced. For the protein market this is a critical element. High grain prices could not be fully passed on because of record high hog supplies, which contributed to unprofitable hog raising economics. The industry has responded with sow liquidation that should result in fewer market hogs in the next couple of years. As a result of this cyclical downturn, Smithfield is responding by limiting capital expenditures and manufacturing more efficiently to offset some of these cost increases even though we have fewer resources.
Green energy also keeps me up at night. As part of ongoing business process improvement to reduce our carbon footprint and utilize better energy management, we've embarked on several parallel studies to actively reduce and manage our utility requirements from our plant shop floor to our IT data centers. Our active IT carbon reduction plan will go into effect in the next few months, promising significant savings annually.
How can manufacturers and retailers better collaborate?Zadeh:
To optimize sales volume and margins throughout the supply chain, establishing a common vision, strategy and objectives to serve consumers must be top on the priority list for manufacturers and retailers. To achieve this, collaboration should take place based on each party's capabilities, avoiding unrealistic expectations. After all, consumer satisfaction should be paramount to both sides.
Generally, in the past several years, consumer goods manufacturers have seen higher productivity, increased sales volume and positive cash flow, neglecting the fundamentals. Some didn't pay close attention to process reengineering and maintaining sales and operations' master data structure. Some did not right-size plant operations and capacities by removing redundancies and non-value activities out of the value chain. Some failed to understand total cost of ownership and lifecycle analysis of manufacturing lines. And others ignored "the always-on-the table" need for a continuous rationalization of SKUs and brands. 
In my view, the resolution of these issues, within the manufacturing sector, is a prerequisite to the successful launch of demand visibility, pricing policies and trade promotion practices -- essential to the collaboration between manufacturers and retailers.
What challenges does Smithfield Foods face as a global company?Zadeh:
I've worked for large multinationals with strong international reach for more than 20 years.  Building a common global business strategy and promoting a single corporate culture takes time, genuine collaboration and strong commitment. In my early international days, our company had a "command-and-control-corporate-HQ-knows-it-all" philosophy. I recall visiting one particular country on a yearly basis. For the five days that I was there, they said, "We'll do whatever HQ says." Then they would do whatever they wanted to do the other 360 days a year! 
To be successful on the international front, first and foremost, one has to be aware and respectful of cultural differences and subtleties in addition to good understanding of local laws, practices and limitations (HR, IT, supply chain, accounting, etc.)  There is a huge knowledge base, on all levels, internationally, that when properly tapped generates tremendous collaboration and cooperation that benefits all involved.
At Smithfield Foods IT, on the first Wednesday of each month, I chair our Global CIO Call...90 minutes of knowledge sharing and issue resolution by the head of IT leadership teams from 15 different international sites. This is a remarkable virtual collaboration that enhances our worldwide business and IT strategy and objectives.