Burt's Bees Launches Recycling Program
Get great content like this right in your inbox.
Subscribe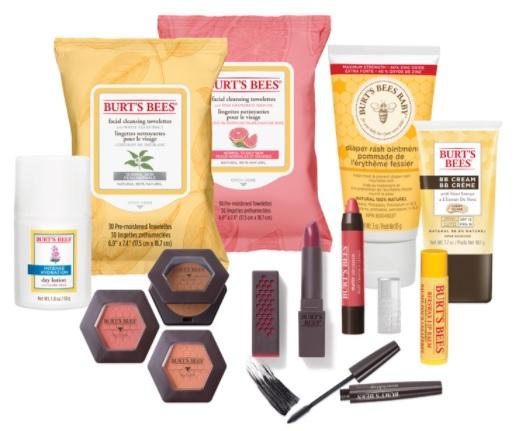 All-natural Clorox beauty brand Burt's Bees has teamed up with recycling specialist TerraCycle to launch "Recycle On Us," an initiative that lets consumers recycle product packaging for free by mail  — including packaging with materials not accepted by local municipal programs.
Recycle On Us is open for individuals, offices, schools and community organizations. In addition to helping the environment, participants earn $1 per pound for every shipment over one pound. Accepted items include plastic tubes, cosmetic compacts and plastic film wraps and bags.
"Sustainability is one of Burt's Bees' core values," said Paula Alexander, the brand's director of sustainable business and innovation. "Burt's Bees strives to formulate with natural ingredients and design packaging with mindful materials like post-consumer recycled content. Through our partnership with TerraCycle, we can not only minimize the material used to create packaging, but minimize or even eliminate used packaging entering the waste stream."
TerraCycle, which specializes in collecting and repurposing complex waste streams through manufacturer-funded programs, has partnered with dozens of companies.
For example, people can send TerraCycle the empty pouches from Barilla's pre-cooked pasta. And Kimberly-Clark has worked with the company to help individuals recycle plastic packaging from Huggies diapers and Scott's paper products. K-C and TerraCycle have also partnered to recycle Nitrile gloves, using the material to make Frisbees, benches and other items. Unlike latex, Nitrile is recyclable.
One interesting undertaking involved Santa Fe Natural Tobacco, a subsidiary of R.J. Reynolds. People were invited to pick up discarded cigarette butts, mail them in and receive credits that could be donated to various charities. Filters were recycled to create plastic pellets, which were used to manufacture shipping pallets, railroad ties and benches. A Keep America Beautiful study found that cigarette waste accounts for about 38% of U.S. roadway litter.
As for plastics, an article on National Geographic's website (July 9, 2017) noted that, of the 8.3 million tons of plastic produced over the last 60 years, only 9% has been recycled. Most ends up in landfills or as litter, eventually reaching the ocean. By 2050, there will be 12 billion metric tons of plastic in landfills. That amount is 35 times as heavy as the Empire State Building.
Most of the resins and fibers used in plastics were produced over the last 13 years. Much growth in plastic production stems from increased use of plastic packaging, which accounts for more than 40% of non-fiber plastic. The U.S. ranks behind Europe (30%) and China (25%) in recycling.
Clorox ranked 80th on CGT's list of the "Top 100 Consumer Goods Companies" for 2017.