Brands and Retailers Are Football Teammates
Get great content like this right in your inbox.
Subscribe
Across various product categories and retail channels, account-specific activity rules for football marketing
As football (and the National Football League's Super Bowl, in particular) remains the most popular sport (sporting event) in the U.S., the "season" gives rise to a large number of retailer-specific efforts as brands seek a way to stand out from the crowd.
Among the highlights from the 2016-2017 season at retail:
At Kroger, Kellogg Co.'s Pringles earned a special place in the fall flight of the retailer's annual "Game Day Greats" campaign by running an exclusive "Battle of the Cans" contest asking entrants to use a drum kit made out of the chip's iconic cans. Pringles introduced the contest in a video posted to its YouTube channel that Kroger plugged on its Game Day Greats campaign website. 
At Sam's Club, Unilever's Dove Men+Care deployed custom pallet displays plugging an account-specific sweepstakes awarding two grand-prize trips to the 2017 Super Bowl in Houston. Shoppers who purchased any two SKUs from the brand entered by submitting their receipt on a promotional website.
NFL sponsors Dannon Co. and Procter & Gamble ran separate bulk-purchase incentives and sweeps at Ahold Delhaize's Hannaford. In-store signage, circular features and social media updates supported the efforts.
A partnership with Blue Buffalo stocked PetSmart stores with exclusive "Stadium Snacks" treats. Shelf blockers promoted the limited-edition offering. A supporting sweeps awarded a home entertainment system, a $1,000 store gift card and gear from Blue Buffalo. A circular feature supported the effort. San Ramon, California-based FunMobility handled the sweeps.
At Albertsons Cos.' Jewel-Osco, Avocados from Mexico provided 17 stores with custom refrigerated stations that enabled preparation of fresh guacamole in the produce section. Daily sampling events, roadside billboards, a circular feature, social media updates and radio spots supported the effort.
At Walgreens, NFL sponsor Mars Inc. activated the retailer's recurring "Game Day Favorites" theme on custom dump tables deployed in cross aisles, sidekicks in the seasonal aisles and counter displays at checkout.
Dr Pepper Snapple Group's Dr Pepper and NFL sponsor PepsiCo's Tostitos each ran cumulative, points-based purchase programs at Dollar General. Display ads and a co-op FSI with the former supported the efforts.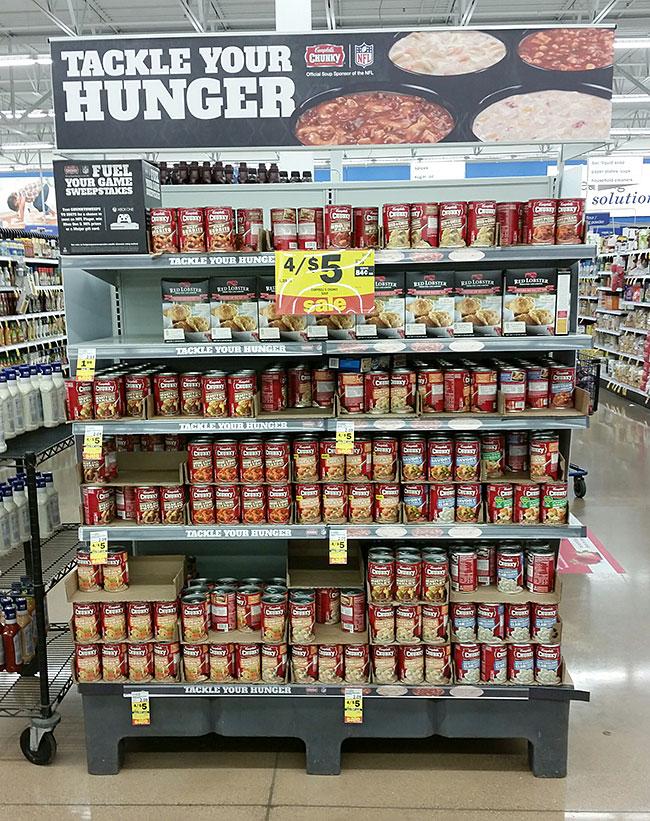 At Meijer, Tyson Foods ran a sweeps awarding entertainment centers, TVs and sound bars. Norwalk, Connecticut-based Advantage Solutions handled the sweeps. Floor clings, a seasonal Meijer.com page, a digital circular feature and multiple display ads supported the effort. Earlier in the season, NFL sponsor Campbell Soup Co. also ran a sweeps at Meijer. Support included security wraps and side panels on endcaps, radio spots, a series of videos showing NFL players shopping at Meijer stores that were posted on the retailer's YouTube channel, and regional co-op FSIs. Bethel, Connecticut-based teamDigital Promotions handled the sweeps.
Publix partnered with Mars and PepsiCo for a sweeps awarding 2017 Hyundai Tucson limited SUVs and trips to the 2018 Super Bowl in Minneapolis. Spectaculars and circular features supported the effort. PepsiCo also enjoyed additional attention with themed cooler headers. Earlier, team-specific pallet displays merchandising P&G products promoted the partners' annual "Tackle Everything" sweeps; QR codes on the displays linked to the entry pages. Features in the retailer's circular and coupon book supported the effort.
At Walmart, Mars earned a standout spot within the retailer's longstanding "Game Time" platform by recruiting ESPN analyst and former NFL coach Herm Edwards to host "The Almost Game-Time Show" leading up to Super Bowl LI. (See page 6.) Participants submitted videos of their pregame routine to vie for a trip to attend Super Bowl LII in 2018. At the start of the season, official beer sponsor of the Super Bowl Anheuser-Busch InBev's Bud Light took center stage, deploying "running back" and "fog tunnel" spectaculars in Action Alley and using Game Time spots on Walmart's in-store Smart Network to promote the limited-edition, team-specific packaging it deployed in corresponding markets. St. Louis agencies Group360 and Cannonball handled creative, advertising and promotion.
At Speedway, Bud Light ran two separate sweeps, awarding prizes such as a trip to the 2017 Super Bowl and a smart TV. Cooler clings and rack headers promoted the sweeps. Facebook, Twitter and Instagram updates from the retailer supported the effort.
Image Gallery