Brandless Expands to Baby, Pet Categories
Get great content like this right in your inbox.
Subscribe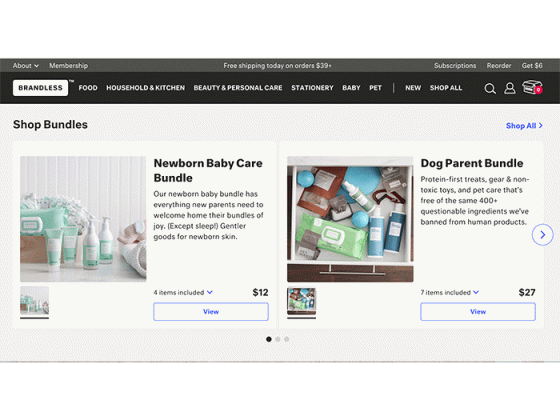 Originally published by Drug Store News.
Alternative online retailer Brandless is expanding its reach to include baby and pet products at slightly higher price points than its original model.
The company this month added baby and pet products to its site, and also launched a subscription service that lets consumers keep their essentials stocked. The products add to Brandless' assortment of better-for-you-focused products, which include such categories as non-GMO and organic food, clean and cruelty-free personal care items, and environmentall sound home goods.
"Since day one, our Brandless community has asked us to expand our assortment of high-quality, affordable stuff to their babies and pets. It's finally here. We started creating these collections on day two," said co-founder and chief executive officer Tina Sharkey. "With this collection, we aim to lessen the need for parents to choose between the high-quality stuff they want and what they can afford."
The Brandless baby assortment includes diapers; organic first foods, which include baby food pouches and organic teething wafers; and clean and cruelty-free baby care products that include baby balm, plant-based baby wipes, tear-free shampoo and wash, unscented baby lotion, and non-nano zinc oxide diaper rash cream. A week's supply of diapers will cost $9 — making them among the first Brandless products from Brandless priced at more than $3.
The company's pet assortment — which also has some $9 items — includes protein-focused treats; organic beef bone broth from grass-fed cattle; supplement chews; non-toxic toys; gear that includes hemp collars and a pet mat stuffed with recyclable materials and topped with organic cotton; shampoo, conditioner and pet wipes; and waste bags made with material meant to break down faster in landfills.
Meanwhile, the new subscription service will let shoppers set a delivery frequency and swap items in and out of their Brandless boxes before they ship. Each box comes with a complimentary gift, and the company will donate two extra meals to someone facing hunger for each subscription box shipped (in addition to the one meal donated with every checkout) in partnership with Feeding America.
For a limited time, the company is offering two weeks' worth of diapers to shoppers who sign up for a subscription box.
Brandless was named CGT's "Standout SMB" for 2018 last month. Sharkey was named a CGT "Visionary" in June.