Baskin-Robbins Delivers via Uber Eats
Get great content like this right in your inbox.
Subscribe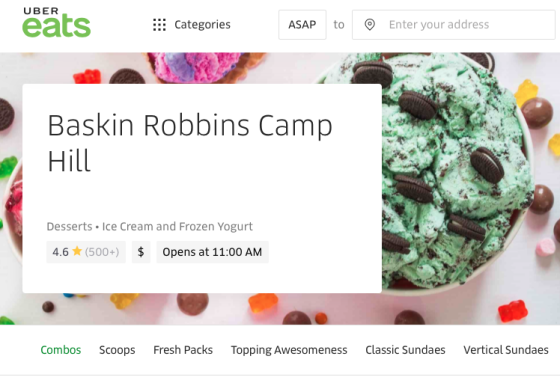 Baskin-Robbins in July will begin direct-to-consumer ice cream delivery in more than 20 Canadian cities through a partnership with Uber Eats. The launch coincides with the start of "National Ice Cream Month."
Through the Uber Eats app, the manufacturer will offer pre-pack ice cream tubs, fresh packs of any available flavor, ice cream cakes and Polar Pizza Ice Cream Treats. The broader launch follows a successful pilot program in the Ontario market.
To encourage trial and commemorate National Ice Cream Month, Uber Eats and Baskin-Robbins are offering a special "Ice Cream Sundays" promotion dangling $10 off orders of at least $20 each Sunday from July 8-29.
"Getting a special package of ice cream treats, delivered straight to your door, is a source of great joy at any time of the year and whatever the circumstance," said Natalie Joseph, a representative for Baskin-Robbins Canada. "Customers want this level of convenience and we're delighted that a large portion of our franchisees have jumped on the opportunity." 
In joining forces with Uber Eats, Baskin-Robbins taps into a service that, with projected sales of $6 billion, is on track to be the largest food delivery business outside of China. According to chief executive officer Dara Khosrowshahi, consumers spend more through Uber Eats than on any other food delivery service in nine of the 22 most populated U.S. cities. (Grubhub, in contrast, had $3.8 billion in gross food sales last year, mainly in the U.S.) 
"Eats is an exploding business in a good way," said Khosrowshahi during a spring presentation at the Code Conference in Rancho Palos Verdes, CA. "It's growing over 200%. Eats is only in 250 cities on a global basis and it's got 350 cities to go to catch up to our rides business." The former Expedia CEO said the biggest hurdle is keeping delivery times under 30 minutes.
But there may be other challenges for restaurants. According to Forbes (March 26, 2018), Uber Eats charges a restaurant 30% of its listed price per delivery—and it doesn't let them increase prices to offset the Uber fees.