11/07/2016
Amazon, Target, Nike Among Social Media Top Performers
Lithium Technologies released findings from its State of Social Engagement 2016 study that uncovers how well Fortune 1000 retail brands are engaging with consumers across social platforms, particularly important now before the holiday rush.
 
The State of Social Engagement showed that retailers are prioritizing engagement, collaboration with influencers and online communities in order to bolster customer satisfaction, and ultimately, sales.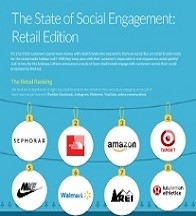 In fact, Twitter found that customers are willing to spend up to 20 percent more with a brand if that brand responds to their social media activities.
 
Of eight retail brands studied (Sephora, The North Face, Amazon, Target, Nike, Walmart, REI, lululemon atheltica), highlights include:
 
Engagement Leaders—Sephora and Amazon had the highest engagement on online communities.
 
Content Champions—Target and Nike did a particularly good job of co-creating content with influencers. Target co-created content on Facebook, YouTube and Twitter most often than other networks.
 
Instagram pros—All eight brands used Instagram for visual storytelling, with North Face, Nike and Sephora being the strongest.
 
The top performers on Twitter and Facebook are below.
 
Ranking of average response times (Twitter):     

1. Sephora – 62 minutes
2. Lululemon – 132 minutes
3. Target – 212 minutes
4. Amazon – 220 minutes
5. Walmart –  1,710 minutes
6. REI – 1,655 minutes
 
Ranking of average response times (Facebook):
 
1. Amazon – 76 minutes
2. Sephora – 87 minutes
3. Lululemon – 87 minutes
4. Target – 333 minutes
5. Walmart –  496 minutes
6. REI – 1,132 minutes
 
More specifically, the State of Social Engagement unveiled the tactics retail brands are successfully using on social media:
 
 Amazon and Sephora were at the top of the rankings with the highest engagement on online communities, strong visual storytelling, appropriate use of each social channel and content integration across channels.

Target performed well in co-creating content with influencers.
All eight brands surveyed leveraged Instagram for visual storytelling, with The North Face and Sephora doing so most successfully.

The majority of the eight retail brands surveyed focused their content on converting, persuading and support. Sephora and Target both had the most "convert" content – defined as linking to a microsite where the consumer can make a purchase or learn where to buy.
 
The State of Social Engagement uncovered the areas of social media where retail brands succeed over the other surveyed industries (telecommunications, consumer products, travel & hospitality, financial services, media, technology and pharmaceuticals):
 
Engagement: Of the industries surveyed, the retail industry ranked at the top when it came to engaging consumers. In fact, the top five most engaging brands in the study were all from the retail industry. The brands with the highest engagement scores also tended to have the highest Klout scores. As a top performer, the retail industry also had the highest average scores for Facebook and Twitter engagement.

Influencer Collaboration: Very few brands in the survey used influencer collaboration well, but those in the retail industry performed best, with Target being a standout. Influencer co-creation helps "amp up" sharing and opens the brand to exposure among the influencers' followings. Retail was the only industry that used all six major social channels studied (Facebook, Twitter, Instagram, Pinterest, YouTube and online communities).

Online communities: Retail brands were among the most adept at using online communities to drive deeper understanding about their products and provide answers to consumers' product questions.

See the full study results here with an infographic highlighting the findings here.