Amazon Launches a Private Label Pet Brand
Get great content like this right in your inbox.
Subscribe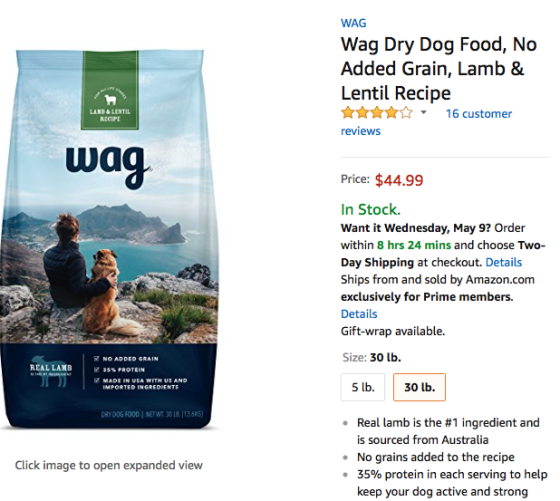 Amazon this month launched Wag, a proprietary brand for pet products that is currently available exclusively for Amazon Prime members. The rollout began with dry dog food, but Amazon eventually plans to include other product categories. 
The e-commerce giant already sells its own pet beds and carriers, which it began marketing under the AmazonBasics brand in 2016. Last year, sales of carriers alone totalled $2 million, according to Fortune. Amazon also markets private label batteries and a variety of baby products, apparel and home goods.
The Wag name had been part of Quidsi, which Seattle-based Amazon purchased for $545 million in 2011. Quidsi had also owned Diapers.com, Soap.com, BeautyBar.com, Casa.com and YoYo.com. In March 2017, Amazon shuttered Quidsi, citing poor profits.
Wag is price competitive with other frequently purchased, "everyday" brands of dog food.  A 30-pound bag retails for $44.99; a similar size bag of Purina Pro Plan sells for about the same price. Wag comes in four flavors, plus puppy chow. The most frequently purchased categories in pet care are basic dog and cat food brands and cat litter.
Eventually, Wag could have a significant impact on the entire pet market. In physical stores, the lower margins on basic food and litter are offset by higher-profit items like toys, collars, carriers and other equipment. The highest-margin area, coming in at about 80 points, is pet clothing (particularly popular among small dog owners). While premium and specialty pet foods are a profitable and growing area, they still are a niche business.
Non-food, non-litter categories are purchased online, too. But since they are bought less frequently, they are not part of every order. This makes it difficult for pet product pure-plays to provide free or affordable shipping on heavy, lower-margin bags of food and litter. Consequently, the online pet products market has been slow to grow. According to Euromonitor International, 3% of 2016 cat and dog food sales in the U.S. were made online. But the size of packaging and frequency of purchase make pet food a likely candidate for home delivery. 
Thus, the online pet food business may be there for the taking for the company that gets it right. The American Pet Products Association said U.S. pet owners will spend $72.1 billion on animals, care and supplies this year, with about $30 billion going to pet food.
With the lower-margin bulky stuff, Amazon's vast and efficient distribution network gives it a highly competitive advantage — so much so that Wag could also threaten physical pet chains like PetSmart and Petco (the latter of which bought Chewy.com in 2017 for $3.3 billion).
Outside of the U.S., the online pet food market has been far more robust. In the UK, for example, 8.3% of dog and cat food sales came online in 2016, said Euromonitor. A huge advantage is that products do not have to travel thousands of miles. 
This, coupled with the growing popularity of specialty and premium pet food, may have driven Nestle Purina PetCare to acquire a major stake in Tails.com in a deal finalized last week. Launched in 2014, Tails.com uses a proprietary nutritional algorithm to provide food individually tailored for dogs based on age, breed, size and activity. It also offers a subscription service, access to an in-house nutrition team and home delivery. Currently, it feeds about 100,000 British canines.
"Personalized pet nutrition, along with direct-to-consumer subscription services, are expanding rapidly," said Bernard Meunier, chief executive officer of Purina PetCare EMENA (Europe, Middle East, North Africa). "This move underlies our focus on investing in high-growth categories and acting on consumer trends. Tails.com has a unique and winning model that successfully combines customized recipes with best-in-class pet owner experience at competitive prices."