Alexa Users Are Shopping, Buying
Alexa is a legitimate shopping tool, according to a new study from Field Agent.
Roughly one-third (112) of the 318 Alexa users polled in the study say they make purchases through Amazon.com's concierge service. While music is the most frequently purchased item (by 43% of respondents), household supplies, electronics, packaged food/snacks and beverages are also common (see Chart 1, below).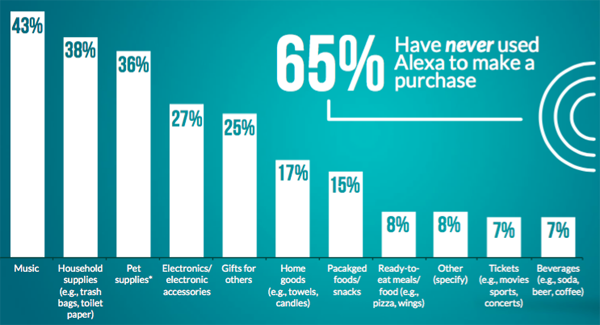 But consumers also are using Alexa to maintain shopping lists, add items to an online shopping cart, reorder products they've bought in the past and shop for items they've never purchased before (see Chart 2, below). Users cite the technology's convenience and ease of use, along with the simplicity of replenishing prior orders, as among its key benefits.
When asked why they aren't making purchases, the other two-thirds of Alexa users noted security concerns (including children buying things accidentally) and the inability to see the products or compare prices as among their main concerns. Others said they simply haven't tried to buy anything yet.
Alexa is still a far cry from supplanting more pervasive technologies as the go-to shopping device: Only 1% of buyers said the service was their primary method for making online purchases — for which computers/tablets (56% of respondents) and smartphones (44%) still dominate.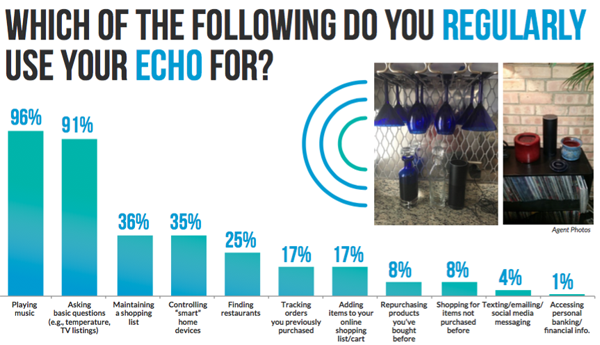 Field Agent's poll also suggests that Alexa might be effective as a branding tool for consumer goods companies: Procter & Gamble's Tide Stain Remover and Campbell Soup Co.'s Campbell's Kitchen skills are both being utilized by 3% of Alexa users.
Field Agent is a mobile audits and research firm that boasts a network of nearly one million consumers globally.