Air Wick Believes 'Home is in the Air'
Get great content like this right in your inbox.
Subscribe
RB makes in-store fragrance experience a priority for brand re-launch
Home is in the Air Campaign
KEY INSIGHTS: Scent is an often-overlooked component in the process of creating an atmosphere in the home. And when it is taken into account, fragrances are often perceived as smelling artificial.
ACTIVATION: A "Home is in the Air" campaign encompasses TV, online video, digital and paid social media as well as FSIs and an in-store fragrance experience. The brand's Life Scents spring collection fragrance experience will go out to almost 20,000 store locations.
Parsippany, N.J. — Aiming to accelerate share while driving category growth and brand loyalty, RB (formerly Reckitt Benckiser) executed a global re-launch of its Air Wick brand with a "Home is in the Air" campaign that includes an in-store component to get shoppers to smell the scents.
"Air Wick's goal with the re-launch is to build an emotional connection with consumers, increasing loyalty and elevating the brand in their hearts and minds under a meaningful and unifying platform," says Tiffany McLaud, marketing director for RB. "It is intended to inspire fragrance lovers to express themselves through scent, helping to make their house a home."
The campaign promotes "the most important and innovative product launch Air Wick has introduced in the last decade," McLaud says. Air Wick's Life Scents spring collection product line is a "major fragrance technology innovation for the category" and is rolling out across scented oils and auto sprays, with more format extensions in development, she says. Life Scents brings three separate scents together in one fragrance.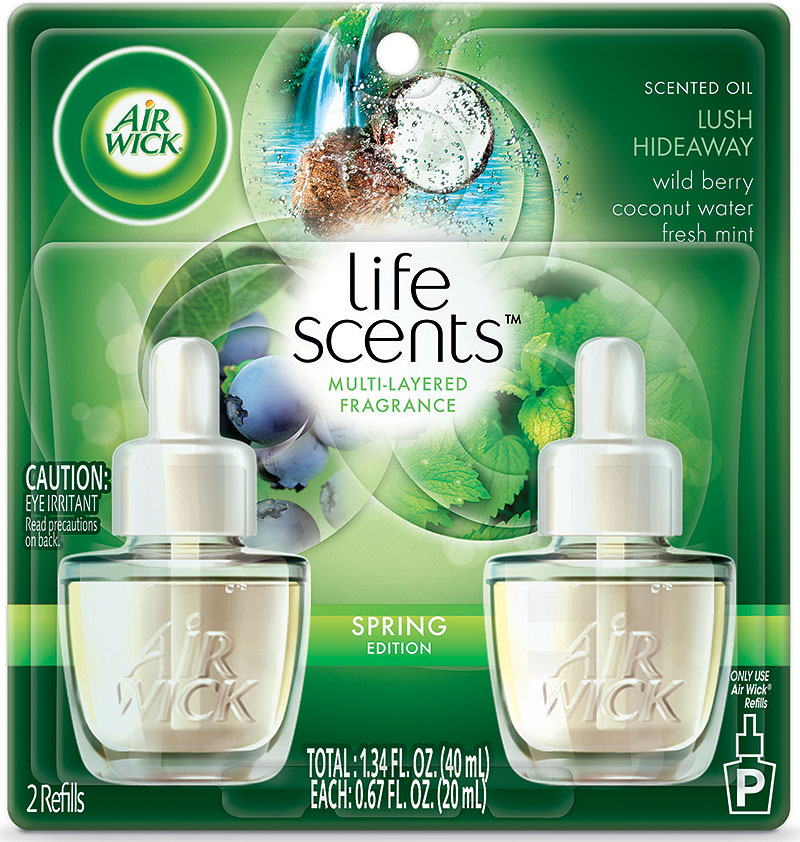 Among the insights that led to the new product line and the overall campaign are that consumers actively create particular atmospheres in the home, and while scent is important, it is often overlooked in the process. Additionally, a common perception is that many home fragrances smell artificial.
The target consumer for Life Scents is women between the ages of 25 and 54, particularly the group among them that RB refers to as "fragrance lovers." These consumers, McLaud explains, "are heavy to super-heavy users of the category and are passionate about using air care at home."
The "Home is in the Air" campaign debuted on social media in December 2014 with a video about a military family drawn closer together by the power of scent. The focus of the video, says RB trade marketing director Jim Kirby, was to drive awareness of the brand's new purpose and to establish an emotional connection pre-store. "Our fragrance lover purchases air care one to two-plus times per month," says Kirby, "and home fragrance is an established part of her routine. Pre-store communication focuses on the newness of Life Scents and how this constantly changing fragrance helps create an atmosphere at home."
The campaign launched nationally in January with a 30-second television spot that could also be seen on Facebook and other social media. Air Wick invited consumers to share their home's story using #Homeisintheair, and supported the conversation with public relations outreach and paid digital and social media support.
The Air Wick website also re-launched in January, and a new online tool was added in February. The "Scent Decorator" helps consumers define the mood they are trying to create and provides home design tips – and an Air Wick fragrance recommendation – so they can purchase the product in-store to create the desired atmosphere at home.
A Life Scents experiential popup was scheduled for this spring at the Mall of America near Minneapolis. Three rooms created by three home designers will use its own Life Scents fragrance product for inspiration. Samples and coupons will be distributed to drive consumers to stores. Life Scents demos are planned at nearly 5,000 stores including Walmart, Target, Kroger, Publix, Meijer, Safeway, Costco and BJ's. Scented puffer samples, fragrance cards and coupons will be distributed at the demos.

"The in-store fragrance experience is accomplished through a mix of customized shelf installations and pre-shipped displays, as well as in-store demos," Kirby says. "As part of our path-to-purchase strategy, the shopper marketing, trade marketing and sales teams worked closely with our retailer customers to create shelving and display solutions and to customize the at-shelf fragrance experience to meet retailer and shopper-specific needs."
"The in-store fragrance experience is a major priority for the launch," McLaud adds, noting that this isn't historically common in the air care category.
Life Scents packaging was designed in a premium black hue for strong standout at shelf and features a "tri-swirl" graphic that visualizes how the technology brings three scents together in one fragrance. Packaging also includes a scratch-and-smell so the shopper can experience the different fragrances in-store.
The campaign will also include FSIs and retailer-specific tie-ins, Kirby says, adding that the Life Scents fragrance experience will go out to almost 20,000 store locations.
RB will ultimately define success for the campaign by measuring equity through communications awareness, such as gains on key brand- and category-usage drivers, McLaud says. In-market metrics include achieving launch consumption, penetration and trial objectives, and financial measures will track revenue and return on investment.
Partners on the campaign included Droga5, New York; Aegis Innov8, New York; Lippe Taylor, New York; Havas Impact, Chicago; IN Marketing Services, Norwalk, Connecticut; Scentisphere, Carmel, New York; and News America Marketing, New York. RB would not disclose on which parts of the program each company worked.