2015 CIO of the Year Award Winner
Get great content like this right in your inbox.
Subscribe
CIO of the Year:
Mark Dajani
Mondelez International

CGT presented its CIO of the Year Award to Mark Dajani, Chief Information & Process Officer, Mondelez International, during a special awards ceremony on October 22nd at the 2015 Consumer Goods Business & Technology Leadership Conference, in Orlando, Fla.

"A notable leader in the consumer goods industry, Mark has brought IT to the forefront of this global organization, making technology a game-changer across business functions," said Albert Guffanti, Publisher, CGT.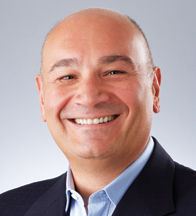 Dajani successfully led the process and system merger of Kraft Foods and Cadbury. He was at the helm when Kraft Foods spun-off its North American grocery business and became Mondelez International. And, most recently, he completed the transaction where Mondelez International and D.E Master Blenders 1753 B.V. combined their respective coffee businesses to create Jacobs Douwe Egberts, the world's leading pure-play coffee company with annual revenues of more than $5 billion.

In addition, Dajani led the digitization of the company's supply chain and introduction of a new sales platform to create one way of selling globally — just some of the ways in which Dajani has built credibility throughout his many accomplishments. Dajani, who will be retiring from Mondelez International at the end of 2015, tells CGT he plans to pursue his passion of improving human productivity through technology.

"This award is a special capstone for my career," said Dajani. "I believe the best CIOs are driven by a passion to make their companies better, and powering up their employees to be at their best. My main focus at Mondelez International has been to help our company run better – adopting and exploiting technology, managing change, and helping increase my company's propensity for change."
FINALISTS



Michael Auslander
Sun Products Corporation

Auslander, wanted to improve its trade promotion management (TPM) system to help field sales and sales finance employees target the right customers for its promotions, improve forecasting accuracy, and get more bang for its buck from its 10,000-plus promotion events every year. Sun Products collaborated with Accenture CAS TPM using a SaaS model. Now, Sun Products is able to gain visibility into and access the right information in order to run better performing promotions and focus on activities that will positively impact the bottom line — and increase profitability. The solution is helping Sun Products meet the challenges of an ever-changing retailer and consumer landscape — and punch above its weight to compete with multinationals twice its size.



Julie Rafferty
Pinnacle Foods Inc.

Since joining Pinnacle in April 2013, Rafferty has laid out the strategic direction for the IT function by ensuring significant progress has been made in terms of people, process, and applications, and built a strong IT foundation to support Pinnacle's growth. She has focused upon implementing new IT applications that accelerate operational performance. She has made an impact in the following areas: IT governance, disaster recovery, security, help desk response time and consolidation of the IT infrastructure to reduce complexity and costs. She has organized and built a state of the art business intelligence data warehouse with multiple analytical capabilities supporting business users across all functions. Rafferty has also led the successful integration of two major acquisitions.



Jennifer Sepull
Kimberly-Clark Corp.

Sepull is responsible for leading Kimberly-Clark's enterprise-wide information systems initiatives to support the company's future growth and to maximize the return on its information technology investments. Since joining Kimberly-Clark in February 2013, she has been focused on transforming the ITS organization to drive revenue and market share for the business through strategic technology innovation. It is Sepull's goal to have ITS become recognized by stakeholders as a high performing organization that leverages their collective strength to drive Value and Lead Technology Innovation. She has also been recognized by a CIO peer group as a top-10 "breakaway" leader because of her impact in leading IT innovation.