2014 Awards Winners: CIO of the Year
Get great content like this right in your inbox.
Subscribe
This award honors the Chief Information Officer who has made the largest demonstrable business impact within his or her consumer goods company through the implementation and successful use of technology.
---
WINNER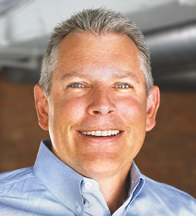 David W. Stahl
Hillshire Brands (now Tyson Foods, Inc.)
After Sara Lee Corporation completed its divestiture strategy in June 2012, what remained was a meat-centric food company, renamed Hillshire Brands, with a portfolio of iconic brands such as Jimmy Dean, Ball Park and Hillshire Farm. From the beginning, Hillshire's growth strategy centered on innovation and acquisitions funded by operational efficiencies. The problem, however, was that IT wasn't structured to support this new strategy — a fact that newly appointed Chief Information Officer, David W. Stahl, was determined to change.
Since joining the company in May 2012, Stahl's vision for IT has focused on providing leadership, innovation and business solutions that make it easier for employees to do their jobs and for customers to do business with Hillshire. His strategy has focused on four major areas:
Simplification – Stahl eliminated redundancies in three key areas: vendors, applications and infrastructure — while driving down costs.
Modernization – Stahl evaluated the current state of the company's IT architecture and developed technology road maps.
Building Capabilities – IT is structured to provide thought leadership throughout the company. It now proposes and implements strategic plans, using both traditional and modern methodologies.
Operating Model Framework – This new model consists of a financial model, performance metrics, a governance framework and management rigor that enables IT to deliver solutions and services that meet Hillshire's needs.
"We structured the organization into four segments: plan, build, run and govern. This enabled IT to align with the business, manage demand, run like a business, and deliver new functionality in a predictable, repeatable manner," explains Stahl.
In just 12 months, results included a 38 percent reduction in operating expenses as well as a 30 percent reduction in applications.
More importantly, Stahl has succeeded in building an IT organization that partners with the business, effectively manages IT spending, and provides service and solution delivery. He created and now supports a working environment where his staff can contribute, learn and grow. These accomplishments will undoubtedly usher in new opportunities for Tyson Foods Inc., which acquired Hillshire Brands in August 2014.
"I am honored to be named CGT's 2014 CIO of the Year," says Stahl. "I would like to thank Maria Henry, the former CFO of Hillshire Brands, for giving me the opportunity to lead the IT group. In addition, I would like to thank my team for helping me develop our strategy and plan, but more importantly, for executing to the plan. As one of my mentors, Irfan Ali, always said, 'Strategy without execution will yield nothing.'"
---
FINALISTS

Michael Heim
Chief Information Officer, Whirlpool Corporation
Since joining Whirlpool Corporation in 2012, Michael Heim has been instrumental in reshaping the company's IT function to ensure it moves at the speed of business. This includes spearheading the introduction of Google Apps for Business, which breaks geographic barriers and surrounds business processes with the right tools to connect employees. In addition to workforce collaboration, this software supports the company's efforts to build more connected appliances.
"I'm proud to have been named a finalist and share that recognition with my Whirlpool Corporation colleagues who are focused on purposeful innovation and creating product benefits that meet the needs of consumers," says Heim. "This is additional affirmation that we're on the right path and that technology is a catalyst for greater innovation, insights for our consumers."

Andrea Simone
Chief Information Officer, NBTY, Inc.
Andrea Simone is leading a total business transformation for this manufacturer, distributor and retailer of vitamins and supplements. Multiple process and system initiatives are improving efficiency, growing revenue and enhancing customer service across NBTY's brands and businesses.
 "I've made substantial progress in encouraging the IT department to stay very close to our business partners; to understand the processes that exist across every area of our company and to work cooperatively to help find creative, technology-enabled solutions," says Simone. "Thinking of ourselves as 'business leaders with a passion for technology' versus just the 'IT people' has enabled fantastic, cross-functional collaboration and enterprise-wide improvement."