Unilever Aims for Palm Oil Sourcing Transparency
Get great content like this right in your inbox.
Subscribe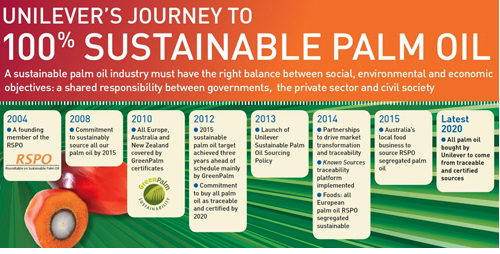 In a move to improve sustainability and product safety in a complex global supply chain, Unilever has become the first packaged goods company to publicly disclose the worldwide sources of the palm oil used in its 400-plus food and HBC brands.
The global giant believes it can achieve a fully traceable supply chain by more proactively identifying problematic issues and quickly addressing them across the 1,400 mills and 300 direct suppliers involved in its palm oil production. This has traditionally been challenging, since palm oil changes hands many times before making its way into finished products.
"A lot of people think if you outsource your value chain, you can outsource your responsibilities," chief executive officer Paul Polman said during this year's World Economic Forum in Davos, Switzerland. "We need to be at the forefront of change. Unilever is committed to greater transparency and continues to work with our partners to drive positive change in the palm oil industry."
The fruit used to make palm oil is grown on plantations and then sold to middlemen, agents, processing mills and refineries before reaching Unilever's factories. Indonesia and Malaysia are the world's leading producers, followed by Thailand, Nigeria, Colombia and Ghana.
Unilever has expressed concern about deforestation and human rights abuses. It also wants to avoid recalls. In 2015, for example, Ghana palm oil containing the carcinogenic and genotoxic dye sultan IV was recalled across Europe. A similar event occurred there a decade earlier.
"We've long been committed to leading the drive towards transparency and the best way to demonstrate this is by opening up our supply chain," said chief supply officer Marc Engel. "Due to traditional commercial sensitivities and the complexity of the palm oil supply chain, it has required perseverance to get where we are."
Unilever did not disclose what technologies it's using to track its supply chain. But the company has been a public advocate of blockchain. In August, Walmart, Dole, Unilever and Nestle announced they were teaming up with IBM to research blockchain applications. The goal is to generate secure digital records and improve traceability of foods within seconds rather than weeks.
Originating in the financial sector, blockchain records information on a shared ledger or "block." Users can immediately verify a message's authenticity and identify any attempts to alter information. Transaction sequences are preserved and audit trails are continually updated. Spreadsheets, data bases and emails are eliminated, affording accuracy and transparency.
Palm oil is used in many Unilever products. In shampoo, for example, it is a conditioning agent that restores hair's natural oils. In food, it makes products like ice cream smooth and creamy.
Unilever ranked 5th on CGT's list of the Top 100 Consumer Goods Companies for 2017 with $55.5 billion in revenue.
Path to Purchase Institute will host a dedicated TransparencyIQ conference May 14-15 in Oak Brook, IL.