Toshiba TVs Are Talking to Alexa
Get great content like this right in your inbox.
Subscribe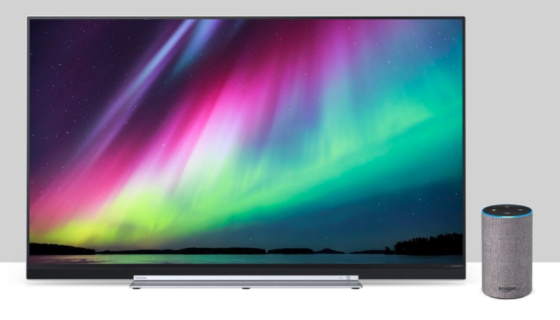 This summer, Best Buy will begin selling 10 4K and HD Fire TV Edition Toshiba televisions featuring built-in Amazon Fire TV and voice-activated remotes with Amazon Alexa. The products will be exclusive to the retailer. Toshiba is also making the built-in Alexa feature available to European retailers in most of its UHD and Full HD Smart TVs.
The Alexa voice-enabled assistant can be used to switch the TVs on and off, change and select channels or inputs, adjust volume and fast forward/rewind content. Users only need to connect to Alexa once via the service's app. The TVs can pair with any Amazon Echo device.
"With our Alexa-enabled series, we're future proofing TV, making it a fundamental part of the smart home experience," said Bart Kuijten, Toshiba's European sales and marketing director. "Enabling viewers to control the audio, movie and gaming TV schedule using only their voice, they also highlight and optimize the value of Smart TV as a dynamic and social home entertainment hub."
In the U.S., the Toshiba TVs exclusive to Best Buy will also allow viewers to choose movies from Netflix, Prime Video, HBO, PlayStation Vue, Hulu and other sites — in addition to letting them access network TV and streaming TV episodes.
Best Buy will also offer Alexa-enabled 10 4K and HD Fire TV Edition TV's under Insignia, its private label brand. Features will be similar to those found in the exclusive Toshiba models. In addition to Best Buy's retail stores, both the Toshiba and Insignia TVs will be available through bestbuy.com. Toshiba's TVs will be available through Amazon as well, with Best Buy serving as a third-party seller.
In announcing the Best Buy exclusives, Amazon CEO Jeff Bezos pointed to the growing popularity of Fire TV-enabled televisions. "The data is that it's growing something like 70% year-over-year," he said.
Toshiba and Best Buy are not the only companies marketing TVs with built-in voice assistants. At January's Consumer Electronics Show, Hisense, Sony and LG all said they were marketing enabled products for the first time or expanding on earlier initiatives.
LG showcased a new Google Assistant-controlled TV but noted that the product can work with Alexa, too.

Sony had offered some Android TVs with support for Alexa in 2016 and 2017; now, it's expanding that support to new 2018 models.

Hisense said Alexa will be part of select models of its 2018 4K Smart TVs for the first time, including the 100-inch Ultra HD Smart Laser TV.