Tech Trends 2017: Redefining Trade Promotion
Get great content like this right in your inbox.
Subscribe
The trade promotion technology solution market is troubled. While 62% of business users believe existing solutions are effective at revenue management, only 23% of the technology vendors themselves agree, as shown in Figure 1. (Note: Revenue management is the determination of effectiveness for price changes, trade promotion tactics and in-store positioning.)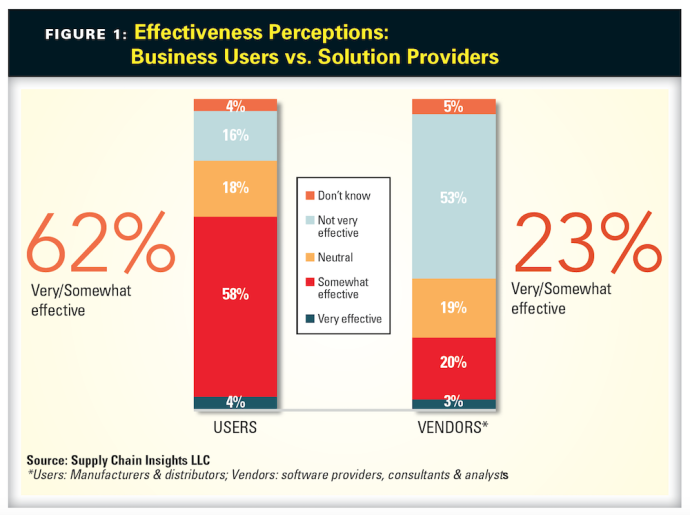 This gap sparks a very competitive market in which technologists compete heavily for a few deals. This creates a circular market of new technology launches, consolidation, and over-hyped promises. Unfortunately, there are more sellers of technology than buyers. There is no compelling, over-arching reason to change or shift technology approaches.
One significant marketplace gap exists between the expectations of business users and the perception among vendors and consultants about what those users need. The visions are not aligned. While the technology community is very centered on anchoring trade promotion solutions around customer relationship management as an enterprise-focused solution, business users are more interested in an outside-in set of capabilities for new product launch, price management and other needs (see Figure 2). Underlying this shift is the use of new forms of analytics to sense and drive decision support based on point-of-sale and channel data.
Traditional approaches to trade promotion focused on the automation of marketing and financial planning, giving sales account teams "checkbook-type functionality" to manage their spending. The goal was more management and control versus any real optimization of spending and activity.
Within five years, this approach will give way to cognitive computing based on point-of-sale data and demand insights. The current world of trade promotion is shifting, but not to the prevailing, traditional view of technologists, because the goal is no longer about making the enterprise more efficient by automating sales account team controls.
Instead, the future is about more effective use of data to break down organizational silos and seize market opportunities. The goal is growth. It currently takes the average business user four weeks to understand if a trade promotion was effective. And the area of new product launch — which is increasingly critical to growth — is especially gnarly. The perception among vendors is that it takes only two weeks. But they are out of sync with market reality.
A key question is whether current solution providers can reinvent themselves by moving past the traditional, and largely outdated, solution definitions often termed "TPx." Despite the many great improvements in functionality made in the space over the last five years, are technologists yet selling what business users want and need? Or are they missing a larger opportunity? And will new players help to redefine the space?
The space is messy, but what's clear is the need for better alignment on market needs between technology buyers and sellers.
Machine learning, cognitive computing and the use of POS data all offer opportunities for technology improvement. Business users with a deep understanding of POS data, such as General Mills and PepsiCo, will have an advantage in driving innovation. Business laggards still dependent on syndicated data and lacking an understanding of POS will be at a disadvantage. In the scramble for growth, building capabilities to capture sales through digital transformation will bring these issues to a head.
Today, 7% of consumer goods manufacturers are testing cognitive computing as a replacement for trade promotion decision support. How fast these early adopters can drive scale and create value will determine how much of the industry will follow — and how quickly it will happen.
____________________________________________________________________
TABLE OF CONTENTS