02/22/2019
Readers' Choice Survey 2019: Trade Promotion Management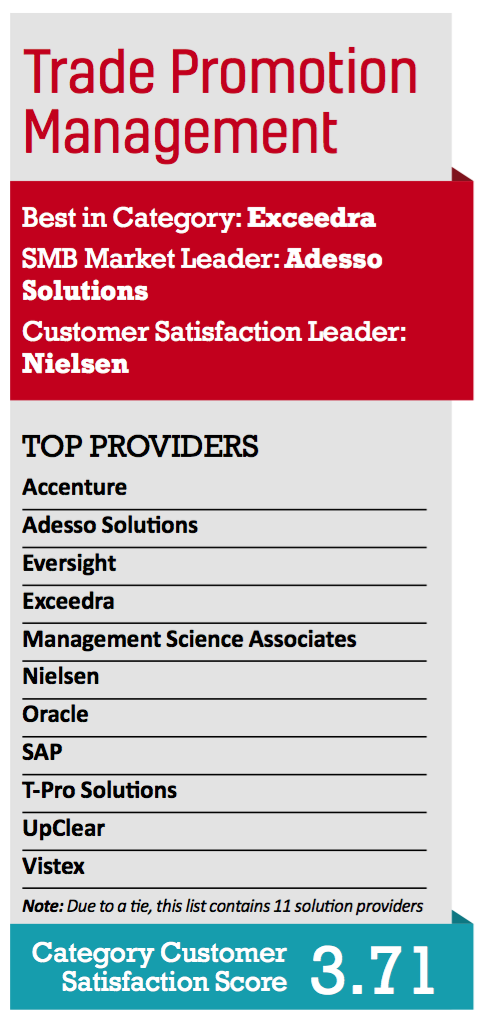 The CGT community's preferred providers of solutions for trade promotion effectiveness, management and optimization.
Best in Category: Exceedra
Exceedra earned Best in Category honors for the second straight year, and clients were again effusive with their praise. "They changed the way we run our business and the way we understand our trade promotion spends," said one survey respondent. "They provided a clear view of commercial P&L," and "They gave us a robust foundation for S&OP and NRM processes," said two others.
One client even specified that Exceedra's solution improved forecast accuracy by 10%. Clients include ACH Foods, McKee Foods, Seventh Generation, Dyson, Birds Eye and Weetabix. In 2018, Exceedra also added Bayer, Treasury Wine Estates and its first Asia-Pacific customer, DKSH.
SMB Market Leader: Adesso Solutions
New SMBs including Wild Friends Foods, Chelsea Milling and White Castle Food Products joined what apparently is a happy roster of smaller Adesso clients in 2018. Readers' Choice respondents called the company and its CPG-focused solutions "Responsive to our needs and always willing to help," "User-friendly and intuitive," "A great system to manage trade," "Very accommodating and easy to use," and "Very simple to use — and it works." "The Adesso team is great to work with," concluded another.
The company kicked off 2019 by introducing Smart Dashboard, a new reporting and analysis system designed to simplify and speed up the decision-making process.
Customer Satisfaction Leader: Nielsen
A 4.43/5 rating earned Nielsen Customer Satisfaction honors for TPM, one of the more hotly contested categories in the Readers' Choice Survey. Respondents literally attributed "good customer service" as the reason for their satisfaction, along with lot of solid data and ratings that are "close to accurate."
Several survey takers picked Nielsen as their most valuable partner on the sheer fact that the company provides "the primary source of data needed to make business decisions." With its historic POS sales data mining service as the foundation — and its direct retailer relationships a major competive advantage — Nielsen offers an end-to-end revenue management solution to help CPGs guide their trade promotion spend.
Noteworthy: Eversight
Eversight has a "great agile service and proven output," according to one Readers' Choice survey taker. In 2018, the company extended its "Offer Innovation Suite" to enable big-name CPG clients such as Coca-Cola, Johnson & Johnson, Mars, Inc., Henkel and MolsonCoors to better sense market conditions, optimize promotions appropriately, and track performance and compliance.
The goal is to wean companies off the historical benchmarking that forces them to program promotions based simply on "learnings from the past" rather than more relevant current data. To that end, Ocean Spray, General Mills and McCormick & Co. are implementing the AI-powered Eversight Innovation Suite to optimize their programming.