Readers' Choice Survey 2019: Enterprise Resource Planning
Get great content like this right in your inbox.
Subscribe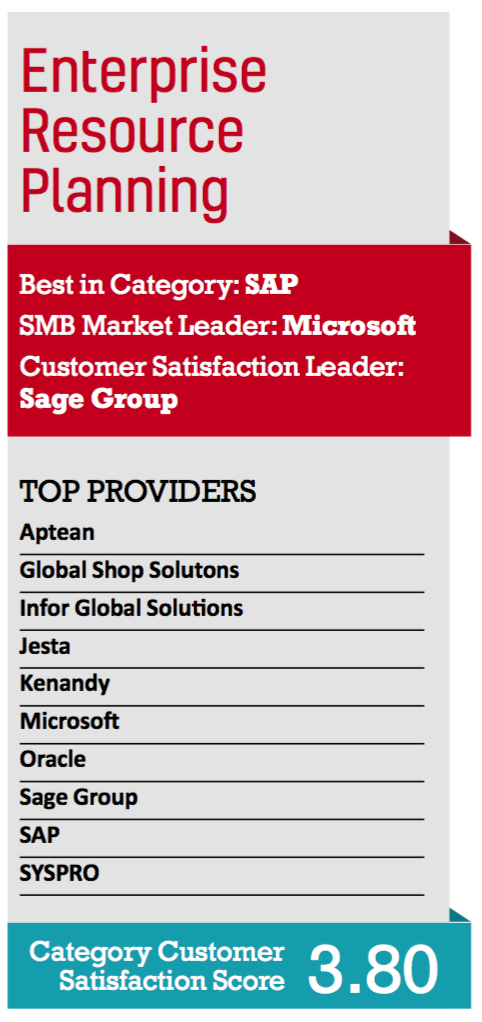 The CGT community's preferred providers of full-suite ERP solutions to empower finance, HR, CRM, BI, supply chain, PLM and other key business functions.
Best in Category: SAP
Perennial category leader SAP is moving decidedly away from its legacy ECC solutions and toward cloud-based ERP with the migration toward S/4HANA. With an eye to enabling complete customer journeys, from purchase intent to actual buying and post-product success and support, SAP has been integrating its core ERP tools with the new SAP C/4HANA suite. This combination of assets features new machine learning capabilities from SAP Leonardo, as well as a new data management suite that enables companies to control highly distributed data.
Hershey began its migration last year to streamline manufacturing and supply chain processes, gain real-time consumer insights to inform decision making, and accelerate revenue-generating innovation to drive growth. Giorgio Armani, Bombardier and McDonald's Corp. are among the other marquee names that have moved to the HANA cloud platform.
SMB Market Leader: Microsoft
Microsoft again was the most popular ERP solution provider among smaller CGs. Survey respondents cited the company for its "good customer service" and being "user friendly," with one calling the company's ERP product "best in the field." Another named Microsoft as its most valuable partner with, "They handle a lot and are reliable."
Product changes for Microsoft Dynamics 365 announced in 2018 included a range of financial management module updates, improvements to business central, and a tightening of the links between Dynamics 365 and other MS tools like Azure, Office 365, SharePoint and Outlook. Clients include furniture maker American of Martinsville.
Customer Satisfaction Leader: Sage Group
Clients apparently stay loyal to Sage Group, as several of this year's respondents noted their long-term relationship to this year's Customer Satisfaction Leader (with a 4.0/5 rating). Sage is coming off a healthy 2018, when it reported 15% growth in enterprise contracts in the U.S. and the addition of 75 partners (including PayPal and UPS) and expanded relationships with Microsoft, American Express, Expensify and Adaptive Analytics.
The company is investing heavily in its cloud and related portfolio, and has added a core financials platform and a human capital management offering for both the mid-market and enterprises in the U.S. New clients include Costa Farms, Empire Candle Co., Smith Gardens, Nature's Bakery and Great Lakes Foods.
Noteworthy: SYSPRO
Joining the mainstays in the Readers' Choice ERP category this year is SYSPRO, which is used by smaller consumer goods companies including American Printing House for the Blind, Benchmade Knife and Sun Mountain Sports.
The latest release of the company's ERP solution, designed to simplify business complexity for manufacturers and distributors, leverages industry 4.0 automation and data exchange capabilities to support the Internet of Things, cloud computing, and cognitive computing. It also allows manufacturers to connect their current factory equipment seamlessly to the traditional shop floor and other ERP technologies already in use, and can now support a large amount of structured and unstructured business and industry data.