Readers' Choice Survey 2018: Trade Promotion Management
Get great content like this right in your inbox.
Subscribe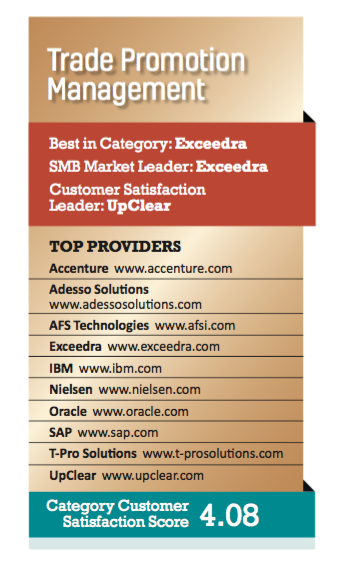 Best in Category, SMB Market Leader: Exceedra
Exceedra's recent success is driven largely by its ability to help companies move beyond TPM/TPO toward more extensive integrated business planning and revenue management, which has earned it recent recognition from several industry groups.
Clients responding to CGT's survey were effusive with praise: "After extensive research, we could not find an alternative product or company that fit (our) requirements. Exceedra has been a game changer in our business," said one. "We've been able to spend more time analyzing and understanding our performance, enabling us to make better decisions," said another. "They go the extra mile," concluded a third.
In 2017, the solution provider started projects with 12 new customers around the globe and completed upgrades with seven existing clients. The new clients added in 2017 included Ainsworth Pet Nutrition, Twinings and Corby Wine & Spirits, which joined a roster that already boasted notables such as ACH Foods, Kimberly-Clark and McKee Foods. Elsewhere, after a successful implementation in the U.K., Bayer took Exceedra's TPM solution across the pond to the U.S.
Client wins continued in early 2018 with the addition of U.K. bottled water marketer Highland Spring, which will tap into Exceedra's demand planning and TPx solutions.
Customer Satisfaction Leader: UpClear
UpClear earned a customer satisfaction rating that far outpaced the category average. Why? Maybe because the company's BluePlanner revenue management tool "is providing visibility to data that we do not have elsewhere," explained one client, while identifying UpClear as the technology vendor providing the most overall value to his organization.
That client provided a list of the tool's many uses: sales forecasting, net sales financials, trade accrual, shared trade/marketing calendars, sales/finance reporting bridge, trade planning and ROI analysis — and then noted that "additional functionality" will come in 2018. "UpClear has provided an improved TPM tool year after year and has grown with our business," said another client. Key customers include Danone, Ferrero, King's Hawaiian and RB.
Noteworthy: T-Pro Solutions
A rookie on the Readers' Choice Trade Promotion Management list (after earning an "Editor's Pick" in 2017) as well as a relative newcomer to the space, 3-year-old T-Pro Solutions has been helping consumer goods makers like Kellogg Co., Land O'Lakes and Snyder's-Lance generate better business plans that improve spending efficiency and effectiveness.
"T-Pro has become a core component of our work. [The company] provides us with a deeper level of visibility to our promotional events, which allows us to make better investment decisions for both our retail partners and our customer teams," said Mike Downey, vice president of strategic planning and commercialization at Snyder's-Lance.