Readers' Choice Survey 2018: Retail Execution
Get great content like this right in your inbox.
Subscribe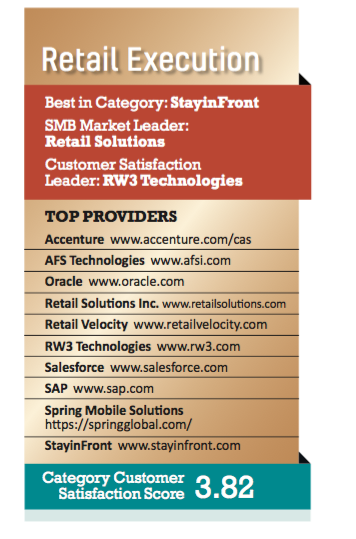 Best in Category: StayinFront
StayinFront "has transformed our go-to-market activities across nine countries in Asia-Pacific," said one of the clients who elevated the company to the top of the Retail Execution category this year. A combination of business-driving analytics and field force-empowering tools (see the Mobility category) has made StayinFront a key vendor in the market.
In 2017, Mondelez International rolled out StayinFront solutions across 23 markets in Europe, giving the CPG standardized processes and consistent tracking and measures. Kellogg implemented a sales force automation tool in North America and Europe that gives the field force easier, faster access to information and insights. In January, StayinFront acquired 20:20 Retail Data Insight, a UK-based analytics provider that will expand the company's ability to deliver actionable insights from electronic POS data.
SMB Market Leader: Retail Solutions, Inc.
While its client list boasts plenty of global blue-chippers (see below), Retail Solutions has always been a top provider for smaller companies like Stemelt Growers, as well. "They have a good core system and make innovative advances," said one client respondent. SMB-centric solutions included a pair of Target-specific applications (released in 2016) that give product suppliers with limited resources fast and easy access to the retail giant's data.
RSi's annual "Awards for Excellence" in retail collaboration showcase the company's capabilities. Unilever's Walgreens team was recognized for an innovative approach to display optimization that drove incremental merchandising opportunities and significant sales growth; Wm. Wrigley, Jr. was honored for helping Target test the effectiveness of adding incremental merchandising to the guest services area of stores.
Customer Satisfaction Leader: RW3 Technologies
Another near-perfect score (see the CRM category) gave RW3 its second straight nod as the leader in Retail Execution customer satisfaction. "Excellent customer relations and understanding of the CG industry," said one client. Another offered, "Great service. They enact changes to our system quickly."
Notable case studies include helping Jennie-O improve on-shelf availability, giving King's Hawaiian greater visibility into display compliance, and arming Bay Food Brokerage with its first digital sales force management tool. Last summer, RW3 upgraded its MarketCheck retail audit application to allow direct communication with third-party field forces, providing dramatically quicker response to on-shelf availability issues.
Noteworthy: Retail Velocity
A perennial member of the Readers' Choice Retail Execution provider ranks, Retail Velocity's point-of-sale analytics tools (scorecards, dashboards, and spreadsheets) "mashes up" (the company's term) POS data from 400-plus retailers with numerous third-party streams of behavior-driving data to help clients improve trade promotion execution, forecast accuracy, out-of-stock reduction, sell-through and profitability.
Among its clients are Crayola, Levi Strauss and Char-Broil. Success stories include helping a sporting goods manufacturer post a 40% increase in daily sales at serviced stores, a fashion supplier make the pivotal shift from reactive to proactive selling, and a candy maker improve the DC-to-store shipment of promotional pallets to Sam's Club.