Readers' Choice Survey 2018: NPDI/PLM
Get great content like this right in your inbox.
Subscribe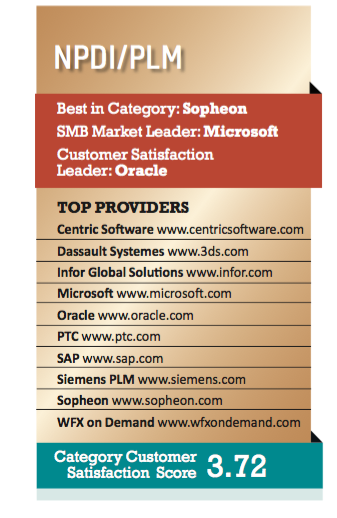 Best in Category: Sopheon
A perennial member of the Readers' Choice NPDI/PLM list, Sopheon rose to the top of the ranks this year by providing solutions that inspired effusive praise from its client base: "An excellent system that meets or exceeds all of our expectations and uses," said one client. "A flexible tool and excellent support," said another. But the piece de resistance came from a client who selected Sopheon as its most valuable vendor: "Their ability to understand our needs and work toward a common goal is a benchmark for a service provider."
Last November, Sopheon released the latest version of its Accolade Enterprise Innovation Management solution. The upgrade boasts an engine built to accelerate strategic investment decision-making for products, programs, portfolios and projects by delivering relevant, real-time information.
SMB Market Leader: Microsoft
Microsoft took the top spot among SMBs (last earned in 2015) after enjoying "Best in Category" status for the last two years. The company's proprietary and partnering solutions are now offered through the enterprise and business (250 employees or fewer) versions of Microsoft Dynamics 365, the new (November 2016) platform that united previously distinct ERP and CRM tools. The single system lets SMBs unite financial management, sales, service, and operations.
The company's focus is now on developing Microsoft Azure as a scalable cloud platform "to enable our partners such as AGR, JustEnough, Kantar and Toolsgroup to build PLM and NPDI solutions," a spokesperson said.
Customer Satisfaction Leader: Oracle
Oracle earned raves numerically this year in the NPDI category, for which it earned Best in Category honors in 2015 and 2014. Oracle PLM is a suite that helps companies innovate, develop and commercialize a mix of products by providing a single data repository across each product's lifecycle — from idea on through design prototyping, certification, production, customization, service, recycling and, ultimately, retirement.
The Agile New Product Development and Introduction solution facilitates collaborative project and portfolio management to streamline and accelerate processes. Agile PLM's best practice templates help clients manage innovation and cross-functional collaboration in both the development and introduction phases.
Noteworthy: Infor Global Solutions
Infor has been a regular on the NPDI/PLM list for years, and it's high satisfaction score in 2017 made it a "Noteworthy" no-brainer. The company's trifecta of PLM applications position Infor as a top player in the market.
The Accelerate, Optiva and Fashion PLM solutions each have their own unique functions fueled by machine learning and support from the Infor GT Nexus Commerce Network. Accelerate is designed to help customers keep up with changing best practices, while Optiva helps reduce time frames for developing and managing new or reformulated products while easily gaining regulatory and labeling compliance. The Fashion PLM solution integrates industry-specific planning into each stage of the PLM process.