Readers' Choice Survey 2018: Digital Commerce
Get great content like this right in your inbox.
Subscribe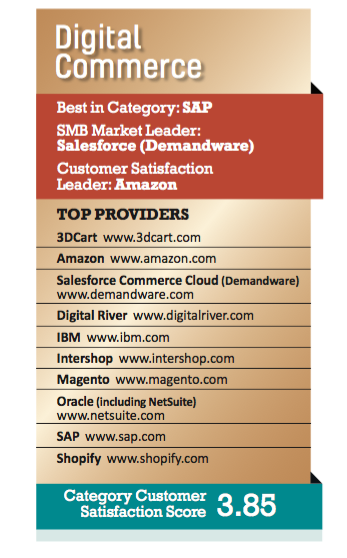 Best in Category: SAP
The market dominance SAP enjoys across so many Readers' Choice categories is rarely more evident than in Digital Commerce, where it provides the solution of choice for a full 40% of this year's respondents and was the no-contest leader among large enterprises.
The SAP Hybris Commerce Cloud offers tools for omnichannel commerce, including consolidated product information management, personalized search and merchandising, and order orchestration and management. Key outputs include data-driven customization, cost-effective order management and fulfillment, and real-time inventory management. Last month, SAP named Ariba head Alex Atzberger as president of Hybris to replace co-founder Carsten Thoma, who left last October.
SMB Market Leader: Salesforce
The Demandware name has given way to the new Salesforce Commerce Cloud moniker, but the platform itself remains a leading digital commerce provider — especially among small businesses. The overall mantra is to provide tools that deliver "buy anywhere, service anywhere, fulfill anywhere" experiences via real-time inventory visibility, order lifecycle management, and allocation/fulfillment logic.
Among client success stories, Birkenstock launched its first e-commerce sites in 20 countries (and eight languages) in a nine-month window, and Diane von Furstenberg tapped into the added capabilities of Salesforce Einstein to drive consistent omnichannel experiences. Addressing the need for companies to move beyond traditional retail channels and embrace other digital commerce options, Salesforce in January integrated with Instagram to let clients create shoppable posts for any product in their inventory.
Customer Satisfaction Leader: Amazon
Looks like the disruptor that's already keeping retailers and CG companies up at night might also be cause for insomnia among digital commerce solution providers — especially since Amazon grabbed the highest customer satisfaction ratings in the category. CG clients for its various services include Kellogg, Allergan, Brooks Brothers and Dole Food Co.
Amazon's status as the world's largest retailer makes it a logical choice to provide related commerce solutions, especially for new CGs or brands still trying to figure out the online landscape. Amazon Web Services offers 90 different tools that deliver a wide range of functionalities (ranging from infrastructure to AI) and begin with a basic tier of "always free" services.
Noteworthy: Shopify
A Readers' Choice first-timer, Shopify is "well known among small and medium-sized businesses involved in e-commerce," according to The Motley Fool. Apple chief executive officer Tim Cook recently declared himself "a big fan of Shopify" for the way the company is "democratizing technology for entrepreneurs" and its efforts to bring augmented reality tools to its 500,000-strong list of clients.
However, the company is also making headway with larger CGs (such as Red Bull, Nestle, Anheuser-Bush InBev and Blue Diamond Growers) with Shopify Plus which, according to the company's website, delivers "multi- channel, enterprise e-commerce ... without the hefty price tag" of some other named vendors on the Readers' Choice list.