P&G brandSaver: April 2019
Get great content like this right in your inbox.
Subscribe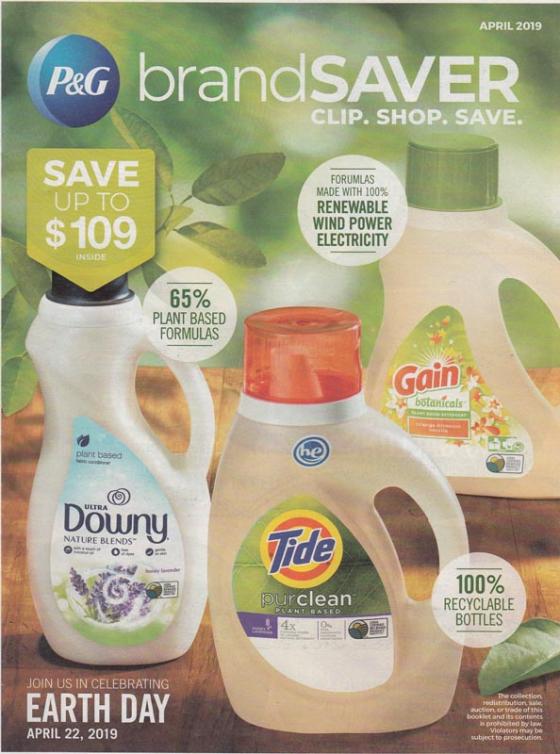 Procter & Gamble tied in to the April 22 designation of "Earth Day" by spotlighting its environmental efforts and eco-friendly SKUs in this month's edition of brandSaver. 
Distributed on March 31 via Valassis, the stand-alone insert's front page depicted plant-based SKUs from Tide, Gain and Downy, while communicating that the bottles are completely recyclable and products are formulated with 100% renewable wind power electricity. The cover also boasted of up to $109 in coupons (depending on the market) contained within. 
An interior spread continued the Earth Day theme, plugging the manufacturer's efforts "to enable and inspire responsible consumption through packaging recycling solutions, launching sustainable innovations and building trust through transparency and sharing." The spread also touted eco-friendly tips, SKUs or efforts from Dawn, Puffs, Cascade, Charmin, Pure by Gillette and Home Made Simple. Cascade, for example, encouraged shoppers to skip the "pre-wash and save up to 15 gallons of water per load" while Puffs and Charmin boast their "virgin wood fiber comes from responsibly managed forests that have been third-party certified." The Earth Day theme continued through the rest of the FSI Event. 
In additional Earth Day-themed activity:
Tide Purclean used a half-page FSI to spotlight the 2018 Environmental Leader award it received from the same-named Business Sector Media property and to position its laundry detergent as a "plant-based clean with the power of Tide."
A half-page FSI touted new plant-based laundry detergent and fabric softener from Home Made Simple. The lifestyle brand made its debut 15 years ago as an online newsletter and then an Emmy-award winning series on the OWN Network, crossing over into product manufacturing with the debut of the new line late last month.
Cascade plugged its new Pure Essentials ActionPacs made with one third bio-based ingredients. 
In additional noteworthy activity:
Mr. Clean dangled a BOGOF deal on a refill for its new Clean Freak spray.
A full-page FSI promised a $15 mail-in rebate with purchase of $50 worth of products from brands including Pantene, Herbal Essences, Head & Shoulders, Tampax and Ivory. The offer runs February 1 to April 30.
Febreze used a full-page FSI to plug BOGOF deals on Febreze One and Unstopables SKUs. 
Pampers plugged its new Cruisers 360° Fit with "all stretch. no tape."
Olay positioned its new Whip foaming body wash as having a "luxe lather" and "weightless feel."
The event also plugged new SKUs from Oral-B, Fixodent and Gillette. 
Brands including Bounce, Swiffer, Always, Vicks Sinex, ZzzQuil, Crest, Metamucil, Pepto-Bismol, Prilosec, Herbal Essences, Hair Food, Pantene, Olay, Head & Shoulders, Braun, Secret, Old Spice and Bounty were also represented in the event. 
See P2PI for this week's retailer overlays.