Perrigo Launches Private Label Imodium Rival
Get great content like this right in your inbox.
Subscribe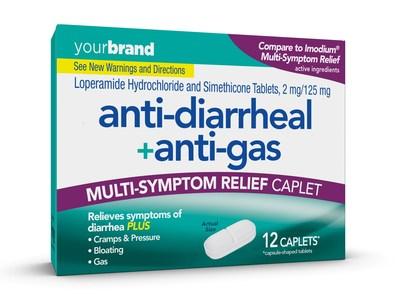 Perrigo Co. has received final approval from the U.S. Food & Drug Administration to launch a store brand OTC equivalent to Johnson & Johnson's Imodium Multi-Symptom Relief.
The product will be packaged and marketed under various retailer private label brands, offering consumers a value alternative to the national brand. It will become available in fourth-quarter 2018.
Imodium Multi-Symptom Relief is used to relieve symptoms of diarrhea as well as bloating, pressure and cramps (commonly referred to as "gas"). Retail sales of the national brand were $62 million in the last 12 months, according to IRI.  
"This final approval and upcoming launch is an important accomplishment for our store brand OTC business," said Jeff Needham, executive vice president and president of Perrigo's Consumer Healthcare Americas business. "Key new product launches such as [this one] provide our customers and consumers with high-quality, value alternatives in important treatment categories."  
Perrigo is one of the world's largest manufacturers of private label OTC products, a rapidly growing segment that represents 31% of the $8.4 billion OTC medication industry in the U.S.
In August 2017, eyebrows were raised when Perrigo began producing a line of OTC remedies to be marketed exclusively by Amazon. Called Basic Care, the line contains 60 products that cover a multitude of OTC categories, including cold/flu, pain relief, allergy medication, digestive health and nicotine gum.
According to One Click Retail, sales of OTC products sold directly to Amazon grew by about 55% last year. GoodSense, Perrigo's private label line, was the top-selling brand.