09/12/2016
P3 Pet Show: A Barking Success
We were back in Chicago recently for the P3 Progressive Pet Products Show, held at Navy Pier, right on the city's lakefront. Surrounded by water and skyline, there couldn't have been a better backdrop for this dynamic show.
With a heavy focus on presenting new ways to enjoy time with, and care for, pets, P3 showcased a variety of really innovative and intriguing products. One such product,
Ono Good Bowl
, which won best new product, tapped into the modern and minimalistic trends we're seeing throughout consumer packaged goods (CPG) today. These high-quality silicon bowls suction to flat surfaces so they don't move (the supplier also has a similar product line for kids called EzPz Happy Mat). 
Another product that caught our eye was the bandana for dogs — always fun to dress up your pooch, right? Except this bandana could morph into a portable food and water bowl, keeping your canine companion cool on hot days.
As vibrant as the natural and organic categories are in CPG for humans, it's no surprise that natural and organic are taking over a larger portion of CPG for pets, too. And not only were natural and organic touted on labels, but "Made in the USA" labels were also prominently displayed. In talking with suppliers, many pointed to the fact that

consumers wanted to know both what is in their pet food as well as where it comes from, and thus, Made in the USA labels resonate positively. 
Taking specialty to the next level, there were also quite a few suppliers at the show

whose pet care products, like shampoos, ear cleaners, and supplements, didn't even look like
pet
products — they were
packaged
so elegantly, they looked like they could stand shelf-to-shelf with the highest of high-end hair products at top salons. 
With so many exhibitors showing off their latest and greatest products, we were thrilled to see and meet suppliers that are already a part of the
RangeMe
community. Bedtime4dog owner Karlene Wieland encouraged suppliers to upload their products to the platform, because buyers want to see everything you have to offer. "While a buyer may not be interested in your single pack, they may have interest in your display offering," she noted.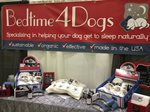 There were also a good number of buyers walking the exhibit floor, the majority of which hailed from smaller retailers like family-owned pet shops, veterinary clinics that also had retail boutiques, and even pet trainers looking to add products to their arsenal, or possibly recommend and sell to their clients. 
A barking success, the P3 is a show to watch in coming years, as pet products continue to grow and expand, and tap into the unconditional love people have for their pets.

ABOUT THE AUTHOR
Brandon Leong, Director, Marketing & Growth at RangeMe. Brandon combines 10 years of marketing experience with a passion for growth and technology. As a native San Franciscan, he has a love for food, dogs and, of course, all things San Francisco.