12/20/2016
Oreo Bites into Online Gifting
Mondelez International's Oreo is piloting a more flexible, agile supply chain model this holiday season that gives it more direct interaction with gift seekers.
The world's top cookie brand is hosting gifts.oreo.com, a new gifting experience for consumers who want to receive or send a festive tin filled with seasonal White Fudge Covered Oreo cookies.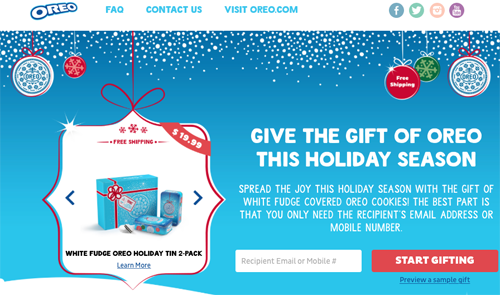 The site lets shoppers send a gift tin as long as they know the intended recipient's email address or mobile phone number. The recipients are then notified about the gift and asked to provide or confirm a shipping address of their choice.
Mondelez partnered with Jifiti, a Columbus, Ohio-based e-commerce company that bills itself as a specialist in providing an "online gifting experience."
While the site currently is a limited test in the U.S., Mondelez said it will use the resulting learning to launch more e-commerce programs in other markets. It's the latest initiative in the company's global e-commerce strategy, which aims to generate at least $1 billion in revenue by 2020.