Next Generation ERP
2011 has been a pivotal year for ERP software. After decades of all-or-nothing ERP implementations, software vendors have listened to consumer goods (CG) companies' demands for greater flexibility, agility and value from ERP systems. A new

generation of ERP solutions has emerged. And these systems are putting powerful yet cost-effective capabilities into the grasp of CG companies. Michael Griffiths, Microsoft Business Solutions' global retail & distribution product director, discussed with
CGT
this new generation of business application productivity.
CGT: To what do you attribute the growing interest among
CG companies in re-evaluating ERP solutions?
Griffiths:
To stay competitive, CG companies must produce high-quality products at the lowest possible cost, all while predicting and satisfying consumer demand. Achieving this consistently and cost-effectively requires CG executives to access and act upon deep business insights across their operations and supply chain. While legacy ERP systems have not historically enabled this level of collaboration and analysis, new innovations in ERP technology are paving the way. CG leaders are recognizing that today's ERP solutions enable them to get up and running on their terms and realizing value far more quickly than ever before. They gain the scalability to support limitless growth plus the ability to readily adapt to dynamic requirements and changing customer and supplier demands. 
What features can CG companies expect to find in this next
generation of ERP solutions?
Griffiths:
Today's ERP solutions offer a generational shift in business capabilities along with a more personalized user experience. In addition to supporting such core requirements as finance, human resources, and so on, next generation ERP offers a purpose-built foundation with deep, industry-specific functionality unique to consumer goods. Whether managing distribution or operating direct retail operations, CG companies can utilize customizable Web services to quickly connect with their suppliers, logistics providers and customers for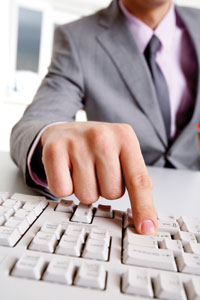 seamless, real-time data exchange and process sharing. There are also powerful inventory management tools to help improve forecasting and planning and fine-tune supply and inventory levels to customer demand. And, with new cloud computing options, companies can also benefit from public cloud services, whether from within their private cloud or on-premises deployment.
What benefits does this provide to employees in the CG organization?
Griffiths:
The success of any business lies in the hands of the individuals who run it. Next generation ERP empowers workers and enables leaps in productivity. Employees can access easy-to-use, role-tailored tools from the shop floor upward along with end-to-end visibility. With real-time information access and built-in, contextual business intelligence, employees can make more informed decisions, free up more time for customer focused interactions, and make quick and easy changes to processes, workflows and personal experiences. This is especially appealing to tech-savvy workers, many of them Gen Yers, who value connection, knowledge and community along with more flexible ways of working. 
Patagonia is a great example of an empowered, informed workforce. Its return on investment of replacing aging business technology with Microsoft Dynamics AX ERP has come in its ability to generate a single, unified view of all business information, making it possible for its employees to respond quickly to demand changes and market trends and make a bigger difference in driving the company's growth. Since the deployment, Patagonia improved inventory turns by up to 30 percent, improved fill rates by up to 10 percent, and achieved unprecedented double-digit growth as a result.
 
In conclusion, today's ERP solutions provide a vital backbone for high-performing, cost-efficient and dynamic operations. Along with unleashing demand-driven production, CG organizations can respond faster to change, incorporate new customers and suppliers with ease, and adapt operations as business needs change.
 
Indeed, 2012 is a great year for CG companies to take a closer look at next generation ERP.