The New Nutrition Label: Challenges and Opportunities
Get great content like this right in your inbox.
Subscribe
The consumer products market and, more specifically, the food and beverage segments, face constant challenges in the form of changing customer demands, technology innovations, and stricter regulations from government agencies.
In May, the United States federal government announced sweeping changes to nutrition facts labels that, among other things, will require companies to show the amount of extra sugar added to products during the manufacturing process. These new guidelines from the Food and Drug Administration will potentially affect more than 800,000 food products and cause many industry players to be fearful of lost revenue and reduced profitability.
The Challenge
The major changes in the new label mandated by the FDA are as follows:
The caloric statement is now printed in bold type.

The number of servings is now printed in bold type and has been adjusted to more accurately reflect the amount per serving that consumers actually eat.

The amount of sugar added during the manufacturing process is now displayed.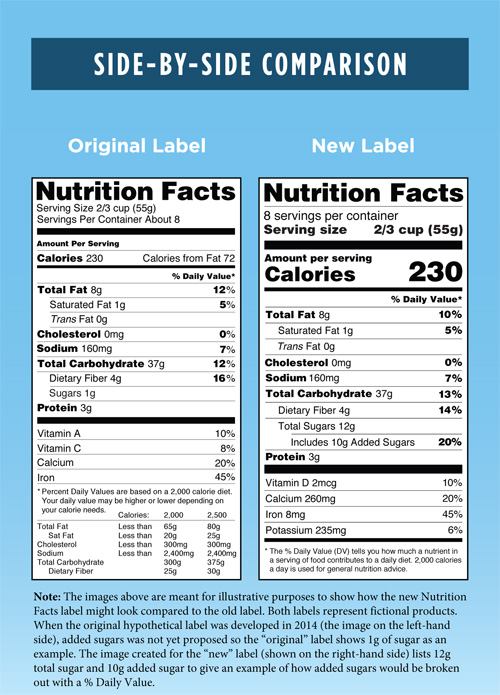 Industry Compliance
Manufacturers have until July 2018 to implement these changes and update all product packaging with new labels. The label changes apply to all U.S.-produced food products and those imported into the U.S.
Market Impact
The label changes will give consumers new information about the food they purchase that could significantly impact their consumption and buying behavior. Food producers are concerned these modifications will impact sales of products with high quantities of added sugar.
Impact on Food Manufacturing
This change involves more than just amending the data on the product label; it has major implications for the food manufacturing industry. For example, manufacturing processes for many products will be significantly affected. The following is a detailed summary of how the new regulations will impact food and beverage product manufacturers:
General Operational and Production Changes
Product numbering

Packaging design

Packaging inventory

Finished goods inventory
Product Development
R&D and product development now must ensure that all data, including the amount of sugars added during the manufacturing process, is accurate and compliant with the new rules.

Products may need to be altered with new ingredients to limit the amount of sugar.
Procurement, Supply Chain and Manufacturing
New materials, from new suppliers, may be required.

New production processes may need to be designed and implemented.

Equipment may need to be modified to accommodate any product changes.
Packaging
New labels must be procured and/or generated.

Products bearing the old label must be phased out.

Products bearing the new label must be phased in.
Sales and Marketing
Product demand needs to be analyzed to determine the potential impact on future sales.

Forecasting and scheduling will need to be reworked.

Marketing materials and messaging may need change to reflect a new product mix.
IT/Systems
IT needs to ensure that all the affected data is updated and managed in all systems, particularly in areas such as master data, bills of materials, and production routings.
The Opportunity
As the deadline approaches, manufacturers should determine how to adapt to target market behavior and to ensure processes and systems are ready to comply with the new FDA regulations. All these business modifications must occur in less than two years to be compliant with the new law.
While many manufacturers have been looking at these changes negatively, the adjustments do not represent doom for the industry. Rather, they present an opportunity for manufacturers to audit all areas of their operations, from the products they produce and sell, to the systems and processes used throughout their companies — and possibly to gain market share. To prepare, food and beverage manufacturers should:
consider implementing a demand and supply chain planning solution to improve supply chain forecasting and sales and operations planning and to ensure alignment between company strategy and all the affected departments.

evaluate product offerings to better align with:

 changing consumer preferences.

 trends toward healthier products.

 removal of less profitable performing products.

align and update systems to manage future changes and regulations.
Change is inevitable. It is the one constant in the food and beverage industry. The new label law can be used as an opportunity to implement bigger-picture projects.
This is a time when business processes, systems, production, and the supply chain can be evaluated and optimized. Things that have been just ideas or a "wish list" can now be implemented for strategic purposes driven by tactical needs. Embracing this new labeling law can turn what was thought of as a necessary evil into an opportunity for manufacturers to increase overall effectiveness.
Stephen Dombroski is Senior Manager-Consumer Verticals at QAD, Inc.