Marzetti Invites Itself to Family Dinner
Get great content like this right in your inbox.
Subscribe
Packaged foods maker T. Marzetti Co. is looking to drive sales through digital content by launching What's for Dinner (www.whatsfordinner.com), an online destination for consumers who need dinner ideas.
Launched on July 19, the new online resource provides "inspired meal ideas from some of the nation's top foodists, kitchen tips and technique videos, as well as recipes from the entire family of T. Marzetti Co.'s beloved brands," according to a release announcing the initiative.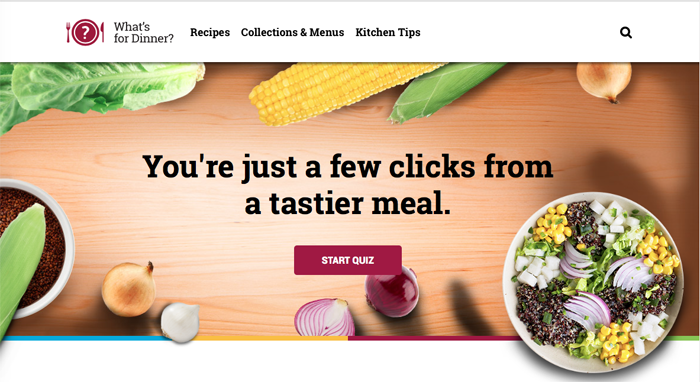 "What's for Dinner is a labor of love from a company dedicated to bringing people together around a table to share a great meal," said Bob Holtcamp, Marzetti's vice president of brand management. "With more people than ever appreciating all the good that comes from preparing and sharing meals together, we were compelled to join the conversation."
Visitors to the site can browse through the library of 750 (and growing) recipes or answer three basic questions — "What are you cooking, "What are you in the mood for" and "How much time do you have"  — to receive recommendations.
Users get one recommendation at a time, but can continue declining the suggestions until they find a recipe they like. The recipes include a list of ingredients and cooking instructions. Each ingredient list contains at least one Marzetti-owned product.
Branding on the site is otherwise very subtle, with most content presented without overt references to Marzetti or its brands. The content is being supplied through a partnership with DishWorks, a self-described "culinary content marketing agency."
Consumers who register on the site (providing just name, ZIP code and email) can maintain their own library of favorites, put together weekly meal plans and build shopping lists of ingredients. There is no mechanism for direct product purchase from the site.
"For the first time in more than 100 years, every brand in the T. Marzetti Co. family of brands is collaborating and sharing on one common platform, with one common mission," noted Stefanie Coffman, senior manager of digital & consumer services.
In explaining the program, the company pointed to recent research that finds "home cooking and food exploration on the rise, with grocery sales growing, sales of meal kits expanding and restaurant visits on the decline." For one, food industry researcher Technomic finds that 80% of millennials say that home cooking is "a good way to live."
A subsidiary of Lancaster Colony Corp., T. Marzetti markets specialty foods for both the retail and foodservice markets under brands including Marzetti, New York Bakery, Sister Schubert's, Flatout, Reames and Angelic Bakehouse.