03/24/2017
Lowe's Augments Store Navigation
Lowe's Home Improvement has launched a mobile app for in-store navigation that employs augmented reality technology to enhance the shopping experience. The company claims to be the first retailer to roll out the functionality.  
"Our research shows that helping make it easier for customers to find products in stores not only makes for a better shopping experience, it allows our associates to spend more time advising on home improvement projects," Kyle Nel, executive director of Lowe's Innovation Labs, said in a media release.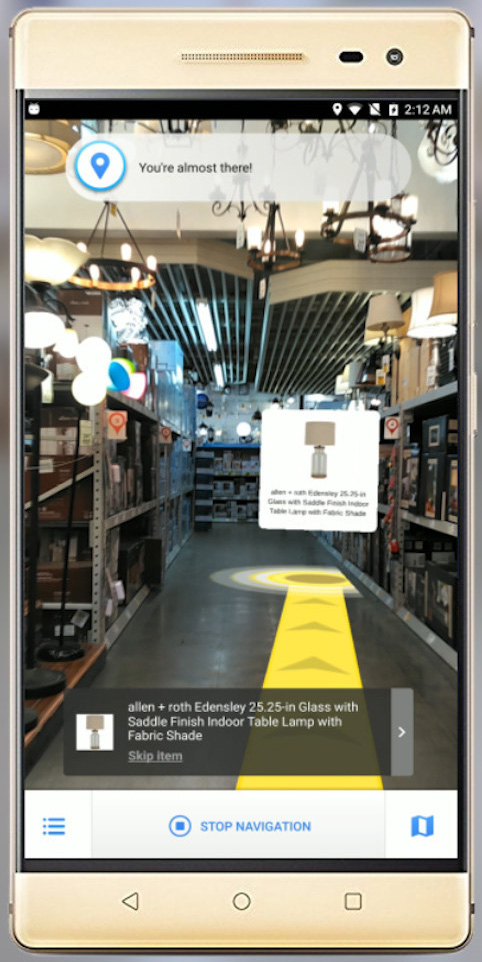 Dubbed "Lowe's Vision: In-Store Navigation," the app utilizes Google's Tango augmented reality technology. It initially is available in just two stores, one in Sunnyvale, California, and another in Lynwood, Washington. The app lets shoppers with Tango-enabled smartphones search for products, add them to a list and find them using AR. 
The Tango technology uses "motion tracking, area learning and depth perception to guide customers through the store using a mixed reality interface," according to the release. As shoppers traverse the store, the app provides directional prompts overlaid onto the real-world setting to guide them through the most efficient route.
The app works "unbelievably well," Nel said earlier this week while speaking at the ShopTalk conference in Las Vegas. Lowe's demonstrated the technology in a booth outside the exhibit hall during the event.
Future expansion of the test will depend on shopper response, the company said. But gauging interest could take awhile: At the moment, the nascent Tango technology is only available on one smartphone from Lenovo; others are due later in 2017, according to TechRepublic.com. For the time being, shoppers who don't own that particular phone will be offered employee-staged demonstrations of the app.  
Lowe's previously partnered with Tango on "Lowe's Vision," an app that uses spatial perception to aid home improvement projects by letting users measure spaces and visualize how products like appliances and home decor will look in their homes. In stores, shoppers can use the app to build lists and access product reviews and information. 
The home improvement chain's mainstream app uses store-specific maps (via Point Inside) to help shoppers find the right aisles and product bays.
Lowe's Innovation Labs is dedicated to creating new ways to enhance the shopping experience for both customers and store employees. The chain also has been experimenting with holographic technology to help customers visualize home projects and in-store robots to help employees manage inventory.