Levi's Digitizes Jean Making
Get great content like this right in your inbox.
Subscribe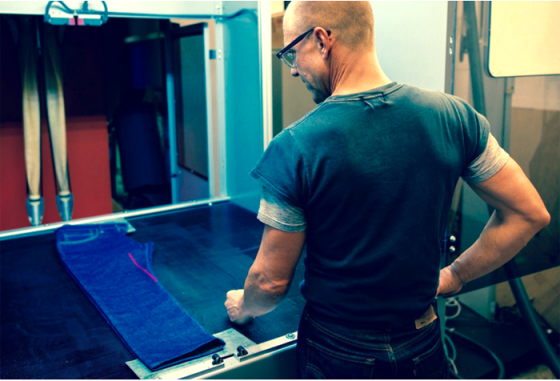 Jeans maker Levi Strauss & Co. this month announced the rollout of "Project F.L.X.," a proprietary technology that replaces manual tasks with digitized design and development of denim finishing. The process dramatically shortens lead times and cuts the number of chemical formulations used in manufacturing, the company said.
Project F.L.X. (for "future-led execution") uses lasers to create the worn, torn and faded looks that's currently popular in jeans. Finishing design and development time is reduced by half. The number of chemical formulations used is cut from several thousand to several dozen.
"Our goal was to tackle two predominant industry challenges — responding quickly to changing trends while making the process more sustainable," said Chip Bergh, chief executive officer of the $4.9 billion Levi's. "We're addressing agility and sustainability without compromising the authenticity consumers expect."
Creating distressed jean finishes has traditionally involved chemicals, sandpaper and other environmentally harmful and labor-intensive practices. Project F.L.X. lets San Francisco-based Levi's finish a pair of jeans in 90 seconds — compared to two or three pairs per hour before. Finishes and final garments can be created in weeks or even days rather than months, reducing the cycle by half. Accuracy is also improved, allowing digital files to be sent directly to vendors and scaled for mass manufacturing. By reducing the number of chemicals used, Levi nears its goal of achieving zero discharge of hazardous chemicals by 2020.
Levi's newest initiative could make it far more competitive with young adult-oriented "fast fashion" companies. In recent years, cutting edge technologies including RFID, robots and consumer-directed digital initiatives have enabled these predominantly vertical retailers to turn on a dime when it comes to trends, making them formidable competitors. Zara, considered the pioneer of "fast fashion," can design, produce and deliver a new garment in two weeks and rarely restocks. Forever 21 operates on a six-week cycle; H&M has an eight-week turnaround.
By delaying decisions on final products until much later in the cycle, Levi's believes it will be able to react faster to trends. Its retailers should also be able to stock leaner inventories, avoiding excess overstock of slow-moving garments.
"One of the biggest challenges is ensuring we have the right products at the right time, and the ability to respond to customers' evolving needs with speed," noted Paige Thomas, executive vice president and GMM for men's and kids at Nordstrom Inc. "Levi is working hard towards this challenge." Levi sells products through its own and other companies' stores.
Since joining Levi in 2011, Bergh, a 23-year Procter & Gamble veteran, has spearheaded a successful turnaround that has touched every area from product, marketing and distribution to manufacturing, e-commerce and consumer-focused technologies. In 2017, sales increased 8%, marking the fifth consecutive year of profitable growth.
Levi has already begun piloting the new model. The rollout will be phased over time, with a goal of being fully scaled by 2020.