Kroger Speeds Innovation with PLM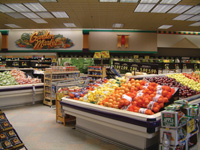 The Kroger Co. selects Oracle's Agile Product Lifecycle Management (PLM) for Process to establish a platform for continually improving the customer experience.
Kroger is implementing the Oracle systems as part of a strategic initiative called the Customer 1st mission in which the company is transforming business operations to improve the customer experience and deliver the highest quality products and services.
Kroger will use Agile PLM for Process to integrate and streamline all aspects of product development, including managing specifications, suppliers, formulations, packaging and labeling, compliance, and quality.
The Oracle solution was selected based on deep functionality for grocery operations, including the ability to support all of the different types of food and non-food products offered within their stores. Kroger also required a solution provider that offered a complete end-to-end suite of integrated applications and that demonstrated the ability to continue to innovate and enhance grocery solutions.
"After a comprehensive analysis, we selected Oracle as the solution to help Kroger continue to provide our customers with the highest quality corporate brand food and beverage products available in the market," says Payton Pruett, vice president of Corporate Food Technology for Kroger. "At Kroger we are continuously searching for ways to better serve our customers and believe that Oracle's Agile PLM for Process will enable our organization to deliver even more on our Customer 1st mission."
"We look forward to leveraging Oracle's Agile PLM for Process solution as we further streamline operations, improve the customer experience, and lead the grocery market through innovation and a commitment to excellence," said Chris Hjelm, chief information officer, Kroger.