Innit Introduces Online Meal Kits
Get great content like this right in your inbox.
Subscribe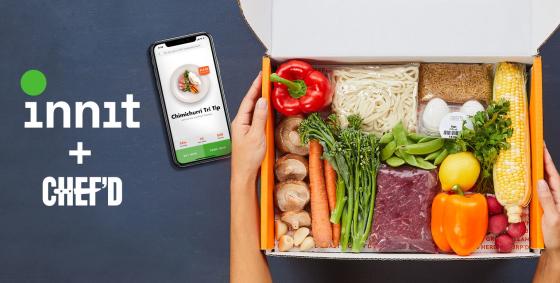 Food technology company Innit has partnered with meal solution provider Chef'd to offer meal kits for home delivery to consumers. The kits are designed to work with Innit's Connected Food Platform personalized meal planning app.
Innit customers can now use the app to order the specific ingredients needed for their meals. They can also choose the delivery date and checkout with Apple Pay or a credit card. Chef'd then delivers the fresh ingredients to their home.
Food kits work in conjunction with Innit's Connected Food Platform. Using machine learning and nutritional science, the latter provides customizable meal recommendations, video-based guided cooking instructions and smart appliance connectivity.
Upon receiving meal ingredients, users scan a QR code or select the meal from their meal plan to begin Innit's "Culinary GPS" step-by-step video guidance. The platform intelligently sequences all preparation steps to ensure everything is ready simultaneously.
"We're excited to be pioneering the next evolution of the meal kit industry through our partnership with Chef'd," said Eugenio Minvielle, founder and president of Innit. "Our personalized, customizable meal content and guided cooking system are a perfect fit with Chef'd's high-quality meal solutions. We're looking forward to bringing a new level of confidence and simplicity to the kitchen."
Added Kyle Ransford, chief executive officer of Chef'd, "The additional value Innit provides to the everyday eating ritual, from personalized nutrition to appliance connectivity, is a significant benefit to our customers and partners. Pairing Innit's eating technology with our best-in class, direct-to-consumer fresh ingredient fulfillment brings capabilities to home cooks that were never possible."
Launched in late April 2015, Chef'd offers fresh, pre-portioned ingredients designed to eliminate food waste and cut consumer grocery costs. Chef'd has no subscription or membership fees.
According to Packaged Facts, growth of online meal kits in the U.S. hit $4.7 billion in 2017, a 210% increase over the $1.5 billion generated in 2016. Online meal kit leaders include Blue Apron, Hello Fresh and Plated.
Recently, physical retailers have entered the business. Albertson's bought Plated in September, and Kroger is offering its private label Prep + Pared meal kits in Midwestern markets. And in March, Walmart announced that meal kits would become available in 2,000 stores over the course of 2018.
According to Nielsen, in-store meal kit sales grew 26.5% over the past year to $154.6 million.