Haggar Revamps Website
Haggar Clothing Co. relaunched its website this week with enhanced functionality aimed at providing "a superior consumer shopping experience."
"Online sales on Haggar.com grew by 28% last year," chief executive officer Michael Stitt said in a media release announcing the relaunch. "Our amazing digital team spent the last eight months developing, testing and perfecting our new platform."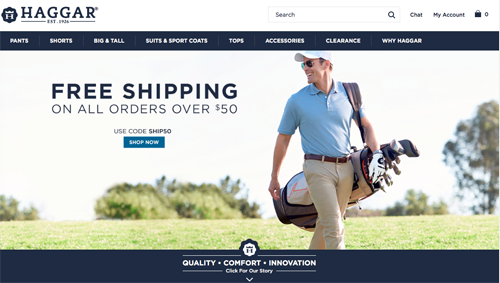 The new site features a new "pant finder" that lets shoppers answer a series of questions to identify the apparel that will best meet their specific needs. Other functionality makes it easier to re-order previously purchased items.
The website is designed to drive direct-to-consumer sales and has no apparent links to the company's retailer partners, which include JCPenney, Kohl's, Macy's and Target. The site's store finder only presents information on the company's 87 Haggar Factory Outlet locations.