The Future of DSD
Get great content like this right in your inbox.
Subscribe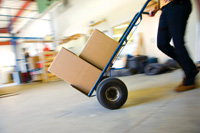 The increasing process costs of direct store delivery (DSD) faced by consumer goods and services companies globally mean that other forms of distribution are challenging it. It's important to examine the challenges facing DSD suppliers, and how they can respond today, and in the future, to demonstrate the superior value-add of DSD.
Key Challenges
DSD logistics can offer companies quicker distribution, increased flexibility and reduced out-of-stocks. However, the competitive advantage of this method faces challenges from the increasing cost of transportation and labor and warehouse costs. Additionally, the increasing maturity of alternative distribution forms will have an impact.
Although there are different market factors facing each company, Accenture can see common approaches that can be effective worldwide. Consumer goods and services companies, as well as retailers, must strive for greater collaboration in the DSD channel to reduce process costs. One such trend is companies embracing initiatives such as scan-based trading, direct exchange, network exchange and advanced shipment notes.
DSD companies continue to outsource non- and lower-value added activities, like merchandising, to remove costs. While companies have been able to cut costs by outsourcing parts of their DSD activities, some resulting business benefits and competitive advantages will be "outsourced" too. This decision should be strategically driven, not simply cost-driven, to ensure that the full benefits can be realized.
The Future
In light of rising distribution costs and a reduced logistical DSD advantage in the future, DSD companies need to establish processes that offer more than "excellent DSD logistics only". The role of sales and marketing elements within DSD will become increasingly important, and superior sensing of and an appropriate response to true local needs will be crucial. Companies must understand consumption behavior at a point-of-sale level, and anticipate the appropriate set of products to be placed in-store and the relevant service level. The efficient delivery structure to replenish products quickly and with a minimum of out-of-stocks will be necessary simply to compete, and it will be the sales and marketing benefits that form the crucial component in demonstrating the value-add.
Staying Competitive
We envisage three capabilities growing in importance for future DSD processes:
Greater understanding of downstream information
Improved leverage of downstream information
Enhanced ability to react effectively and quickly
Ultimately, DSD does face challenges, however, DSD processes that effectively combine the capabilities of logistics with sales and marketing will play a much more relevant role in the future.
---

Dr. Ramin Shariatmadari, Director, Product Marketing,
Accenture CAS