Colgate's AI-Enabled Toothbrush Connects with Apple
Get great content like this right in your inbox.
Subscribe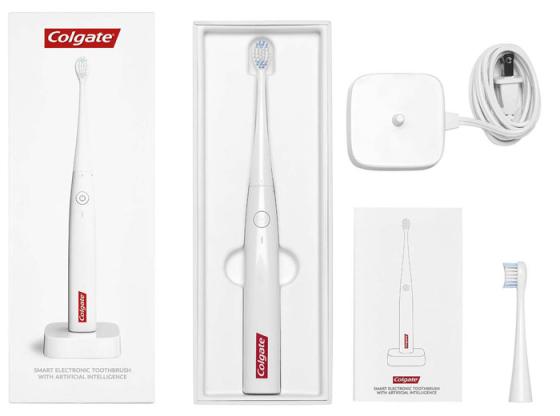 Colgate-Palmolive this week unveiled the Colgate Smart Electronic Toothbrush E1, a new device that uses artificial intelligence to help consumers improve their oral health.
Employing Bluetooth connectivity and sonic vibrating technology, the device works in conjunction with a "Colgate Connect" mobile app to provide users with real-time feedback about brushing activity that can improve their habits and prevent future problems.
Designed with the help of dentists, the brush uses real-time sensors and artificial intelligence algorithms to determine "brushing effectiveness" in 16 zones of the mouth and make informed recommendations, according to a media release announcing the product's introduction. The app features a "3D brushing coach … to create an enjoyable oral care routine while encouraging better brushing habits."
The device was developed by Kolibree, "a pioneer in embedding connected toothbrushes with artificial intelligence and 3D motion sensors," Colgate said in the release.
The Colgate Connect app is integrated with the Apple ResearchKit, the technology company's an open source framework for collecting data to drive medical research. When users permit, the devices will help Colgate "crowdsource general toothbrushing data to get even smarter about oral care for better and faster future innovation," according to the release.
"Our goal is simple. We want people to have their healthiest smiles by brushing their best," said Dr. Patricia Verduin, Colgate's chief technology officer. "The first step … is to understand consumers' brushing habits, and Apple ResearchKit has proved to be a powerful tool for this."
The intelligent toothbrush, which debuted on Jan. 9 exclusively on apple.com and in select brick-and-mortar Apple Stores, is priced at $99.95.
Colgate-Plamolive ranks 34th on CGT's list of the "Top 100 Consumer Goods Companies" for 2017 with $15.2 billion in sales.