Coke, Utz Grill with Bo Jackson at Jewel-Osco
Get great content like this right in your inbox.
Subscribe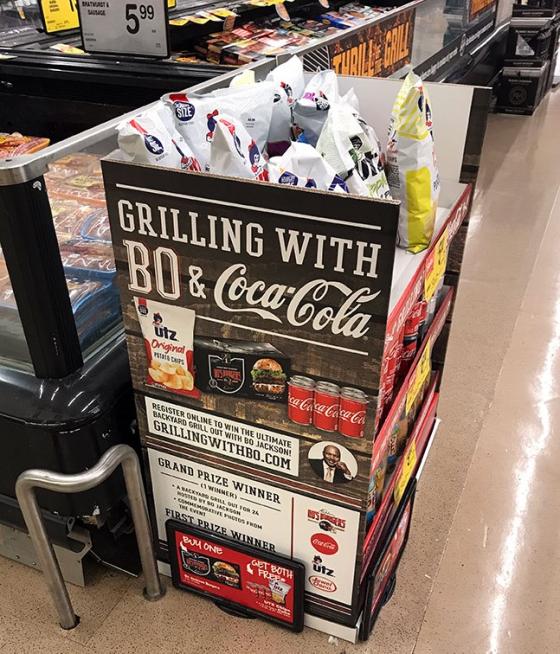 Albertsons Cos.' Jewel-Osco is leveraging the star power of Bo Jackson — baseball and football All-Star turned owner of Bo Jackson Signature Foods (maker of Bo's Burgers) — to host a grilling-themed sweepstakes also incorporating Coca-Cola Co. and Utz Quality Foods.
Dubbed "Grilling with Bo Jackson," the sweeps runs from April 24 through July 31 and will randomly award one grand-prize "backyard grill out" event hosted by Bo Jackson for up to 24 attendees (allowing one photo per attendee and one group photo) on August 24, as well as sports memorabilia autographed by Jackson:
One first-prize Oakland (CA) Raiders football helmet 
One second-prize Chicago White Sox baseball jersey
One third-prize football
Participants enter the sweeps online via grillingwithbo.com. Cincinnati-based G3 Sports & Entertainment both sponsors and administers.
In stores, an account-specific floorstand positioned near meat products highlights a deal offering a free bag of Utz potato chips and a free six-pack of 7.5-ounce Coke mini cans with purchase of one package of Bo Jackson's frozen Grandslam Angus burgers. Facebook and Twitter updates as well as an April 23 email ad have also touted the purchase incentive and sweeps, while directing participants to the aforementioned microsite for entry.
In addition, the home page of Bo Jackson Signature Foods website plugs the sweeps and the "buy one, get both free" offer to drive consumers to Jewel and the entry site.
In related activity, Jewel is concurrently promoting Albertsons' companywide "Thrill of the Grill" campaign in stores. Freezers stocking frozen burgers and hot dogs are outfitted with themed clings and price headers.