CGT October 2018: More from Less
Get great content like this right in your inbox.
Subscribe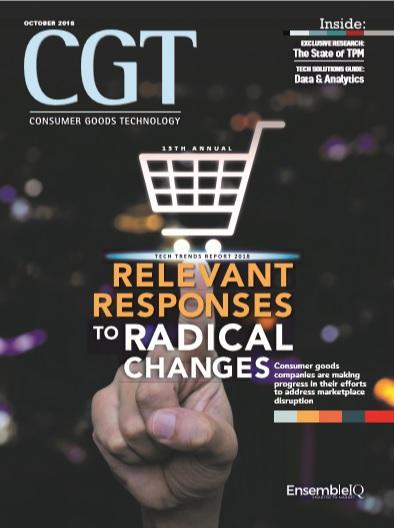 The full digital edition of CGT's October 2018 issue is available here. The table of contents can be found below.
The more things change, the more budgets stay the same. That might be the most striking conclusion from CGT's 15th annual Tech Trends Report. 
Over the course of 2018, we've been covering a lot of innovative technology initiatives taking place across the consumer goods industry. Among them: 
• The rapidly increasing use of artificial intelligence/machine learning to dramatically improve consumer insights gathering and analysis, as well as to expand and enhance consumer engagement — and, in the best use cases, the development of systems that can achieve both goals at once.
• The transformation of existing infrastructures to address the new, omnichannel marketplace, thereby providing the flexibility to continue delivering truckloads of product cost-effectively and efficiently to thousands of stores, while adding the ability to profitably (some day, at least) directly ship single items to specific consumers.
• The deployment of cloud architecture to facilitate the cross-functional visibility and collaboration that has been an unfulfilled wish at most companies for a long time.
• The development of IoT-enabled products that greatly enhance the user experience while also mining data that can inform future rollouts and enhance the user experience even more.
• The introduction of voice communication to a consumer marketing playbook that seems to get thicker and more challenging (but also more engaging) by the day. 
• The emergence of blockchain as a means of providing visibility and transparency throughout the supply chain, from original product source to ultimate end user.
But what might be more impressive than any of these efforts is the fact that, in most cases, they've been accomplished by innovative, industrious professionals who were required to make substantial changes to their operations without any significant increases to their budgets. They've been asked to change the future with the same budget as last year, so to speak. We tip our caps.
Elsewhere, while it might be hard to see innovation within survey data, there certainly seems to be at least a little lurking within the results of this month's other report, a deep dive into trade promotion management. It's the first time CGT has fielded a full research study on TPM, and we'd like to thank content partner Capgemini for structuring the survey and providing their insights about its implications. 
"Management" probably isn't the best word to explain how consumer packaged goods are operating these days. "Optimization" doesn't really work either, since few companies are merely working to improve the status quo anymore. Instead, they're seeking more outside data, greater internal transparency and more streamlined processes that will let them work as close to real time as possible to meet the evolving needs of consumers.
And the need to keep improving is great: Although survey respondents don't necessarily expect to see any major increase in spending on the tools of trade promotion, they do expect a continued rise in allocations.
Like I said at the beginning, the more things change, the more budgets stay the same.
--Peter Breen, Editor-in-Chief
---
To read the rest of CGT's October 2018 issue, click on the article links below:
Tech Trends 2018: Relevant Responses to Radical Changes
TPM Study 2018: State of the Industry
Data & Analytics Solutions Guide 2018
Addressing the Technology Imperative