CG Marketers Like Retailer Websites (Apps, Not So Much)
Get great content like this right in your inbox.
Subscribe
Exactly one-third of consumer goods marketers view retailer websites as the most important touch point in their digital marketing strategy, according to the "Shopper Marketing Trends Report 2017."
The report asked consumer goods marketers to select the most important touch point from a list of nine key digital marketing tactics. Retailer websites was the clear favorite; loyalty programs was a distant second at 19% (see Figure 1).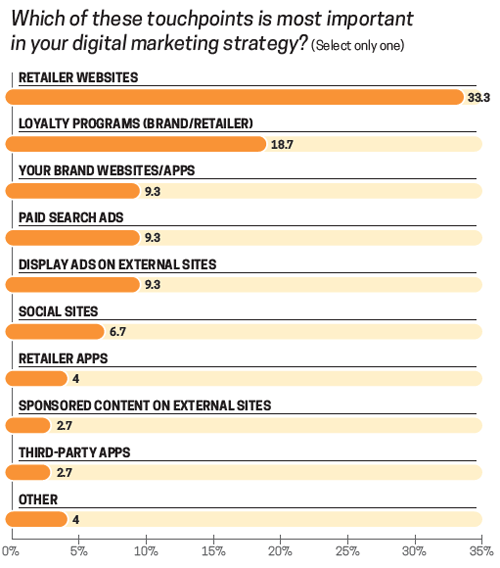 While it isn't evident from the responses how much of the tactic's importance is based on effectiveness versus how much might be inspired by customer relationship management, it does seem clear that retailer websites are a key component of the plan.
Asked in a separate question what touch points they might be moving away from, only 5.8% of marketers cited the tactic — compared with 25% who said they're moving away from third-party apps and 17% from their own websites and apps (see figure 2).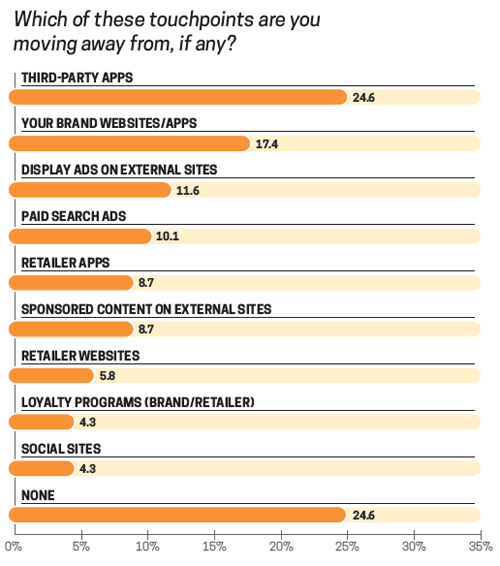 Retailer websites provide an efficient marketing platform because visitors "are already in that shopping mindset … and context is very important in marketing," Christian Ardito, Campbell Soup Co.'s senior marketing manager of soup and broth activation, said last fall during a presentation at the Path to Purchase Expo.
For example, a banner ad for soup on ESPN.com might deliver lower engagement than an ad on Walmart.com, where there's a greater chance that the viewer is already looking for food options, Alito explained.
That critical relevance outweighs some of the other potential drawbacks: Retailers typically have stronger measurement data – direct sales results, in particular – but generally are less willing to share it than third-party websites, he noted.
In addition, a brand may lose some control over its messaging and placement when working through retailers, whose own broader sales objectives might take precedence over the brand plan.
The 2017 Trends Report polled 200-plus consumer goods marketing executives in fall 2016. For more information, visit the Path to Purchase Institute.