Campbell Soup, Hershey Bet on Snacks
Get great content like this right in your inbox.
Subscribe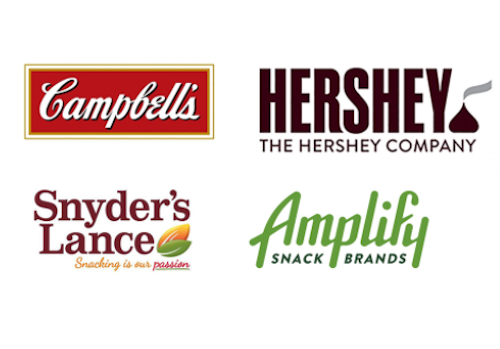 Originally written and reported by Progressive Grocer 
Traditional packaged goods makers loaded up on snacks before the holidays: Campbell Soup Co. agreed to acquire Snyder's-Lance Inc. for roughly $4.87 billion, while The Hershey Co. struck a deal to buy Amplify Snack Brands for $1.6 billion. The deals expand the snack food offerings for both Campbell and Hershey.
The transactions follow on the heels of another "snack-uisition" by Utz Quality Foods subsidiary Heron Sub Inc., which is buying Inventure Foods for about $165 million. Inventure, whose snack brands include Boulder Canyon, TGI Fridays, Nathan's Famous and Vidalia, will operate as a subsidiary of Utz.
"The acquisition of Snyder's-Lance will accelerate Campbell's strategy and is in line with our purpose: 'Real food that matters for life's moments,'" said Denise Morrison, chief executive officer of Camden, N.J.-based Campbell. "The combination of Snyder's-Lance brands with Pepperidge Farm, Arnott's and Kelsen will create a diversified snacking leader ... shifting our center of gravity and further diversifying our portfolio into the faster-growing snacking category."
"Following a thorough review process of strategic options, we believe this transaction maximizes value for our shareholders," said Brian Driscoll, CEO of Charlotte, N.C.-based Snyder's-Lance. "The transaction also unlocks the value of our portfolio, reflecting the progress we have made planning and executing our transformation."
The Snyder's-Lance acquisition is Campbell's sixth in five years. The company purchased Bolthouse Farms in August 2012, organic baby food company Plum in June 2013, biscuit company Kelsen in August 2013, fresh salsa and hummus maker Garden Fresh Gourmet in June 2015, and organic broth and soup producer Pacific Foods in December 2017.
Hershey-Amplify: "Cultural Partners'
"The acquisition of Amplify and its product portfolio is an important step in our journey to becoming an innovative snacking powerhouse, as together it will enable us to bring scale and category management capabilities to a key subsegment of the warehouse snack aisle," explained Michele Buck, Hershey's CEO. "Hershey's snack mix and meat snacks products, combined with Amplify's Skinny Pop, Tyrrells, Oatmega, Paqui and other international brands, will allow us to capture more consumer snacking occasions by creating a broader portfolio of brands."
"Since Amplify's inception in 2014, our company's goal has been to bring transparency to our products, and clean ingredients and great-tasting snacks to consumers," said Tom Ennis, CEO of Austin, Texas-based Amplify. "Hershey is a great cultural partner for Amplify, and … our team … will have access to Hershey's marketing and go-to-market resources to take our brands to the next level."