Buzzing About the NRF Show
Get great content like this right in your inbox.
Subscribe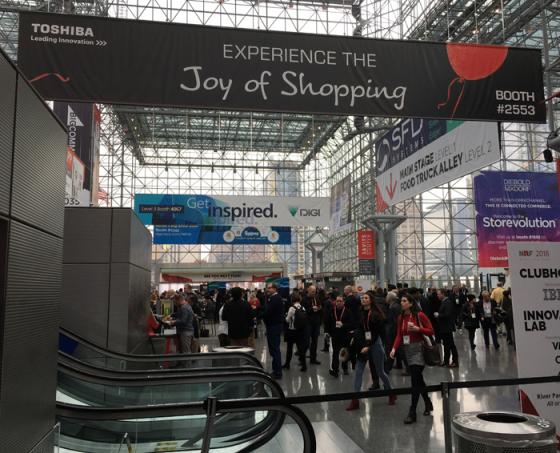 The retail industry is moving at such a breakneck pace that even its buzzwords are changing rapidly.
"Unified commerce," the trendiest term at the National Retail Federation's 2017 "Big Show," was barely uttered at this year's event, which concluded in New York on Jan. 16.
That's probably because all the retailers, technology providers and consumer goods manufacturers in attendance this year have fully (and yes, finally) embraced the new world of omnichannel commerce and, more than ever, seem prepared to undertake the steps necessary to succeed at it.
Buoyed by better-than-expected sales results from the 2017 holiday season and boosted by record attendance, the atmosphere at this year's Big Show was overwhelmingly optimistic. It ran so high, in fact, that a few of the event's speakers went so far as to dismiss recent debate about a "Retail Apocalypse" as little more than sensationalistic media reporting — as if declining store traffic, generally sluggish brick-and-mortar sales and Amazon's growing industry dominance shouldn't have set off any alarms.
For the record, we here at CGT don't remember anyone forecasting the death of "retail," although some analysts and outlets may have overzealously predicted the demise of the traditional brick-and-mortar store. No, everyone expects "retail" to live as long there are consumers who need to buy things. And few expect the brick-and-mortar store to disappear entirely, just to be reinvented dramatically.
That desire to reinvent the store is what drove much of the optimism at this year's show, which arguably didn't showcase very many brand-new concepts for engaging with consumers and shoppers. But what it did spotlight were numerous existing consumer engagement tools with two critical elements.
The first of those is more sophisticated back-end systems that can better capture live data to fuel personalized consumer engagement, drive operational efficiencies and even guide future strategic planning (like product development or store design). The best technologies are capable of facilitating all three simultaneously; many (if not most) are employing artificial intelligence to do so.
In his keynote presentation — to which he arrived on bicycle, navigating through the crowd with assistance from the new Levi's Commuter Trucker Jacket with Jacquard by Google IoT technology — Levi Strauss president JC Curleigh called this kind of consumer-facing deep learning tool a "Business Mullet: simple in the front, sophisticated in the back."
The second key element is actual examples of real-world deployment. While past Big Shows often boasted numerous great ideas desperately searching for actual case studies, this one seemed to feature more clients (Kroger with Microsoft, Target with Zebra Technologies) explaining how they're actually using the systems.
The most optimistic spin of all may have come from Bala Subramanian, Best Buy's chief digital officer, who suggested that, since e-commerce and social media are ho-hum second nature to younger consumer generations, a trip to the physical store might actually prove to be what satisfies their need for unique experiences.
As for new buzzwords, here's one that might have potential: "Distributed commerce," which refers to the need for retailers to look beyond their own sales channels to embrace any other venue — social media and online marketplaces, for instance — where consumers are buying product. 
Stay tuned for additional coverage from the NRF show over the next few weeks on consumergoods.com.