Unilever Tops Gartner's Supply Chain Ranks
Get great content like this right in your inbox.
Subscribe
Unilever again earned the No. 1 ranking in Gartner's 13th annual "Supply Chain Top 25," which was unveiled this month at the consultancy's Supply Chain Executive Conference in Phoenix, Arizona.
It was the second straight year that Unilever topped the list. Consumer goods companies Nestle, Nike and Colgate-Palmolive also landed in this year's top 10. Overall, CGs accounted for 14 of the top 25. Nokia rejoined after a seven-year hiatus and Diageo made the list for the first time. Retailers H&M and Walmart also made the rankings.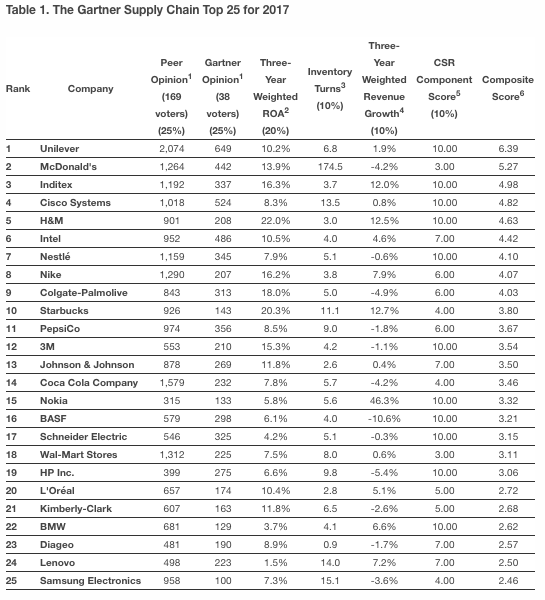 Meanwhile, perennial supply chain leader Amazon joined Apple and Procter & Gamble in qualifying for the "Masters" category, which Gartner introduced in 2015 to recognize sustained leadership over the last 10 years.
"Hardly a day goes by without another announcement of Amazon's foray into a new market, ownership of its own logistics capabilities or filing of patents to improve customer experience," said Stan Aronow, research vice president at Gartner. One indicator of Amazon's outsized influence on retail is the simultaneous real estate boom in distribution centers and bust of brick-and-mortar stores in the U.S. over the past two years, according to Gartner.
P&G continues to innovate through digital automation of workflows and the use of algorithm-driven tools to reduce exceptions and enable end-to-end planning, according to Gartner. In recent years, the company has also accelerated its investment in people and environmental initiatives.
"Despite some striking performances … today's supply chain leaders face a much different business environment than just 12 months ago," said Aronow. "A general trend toward protectionism, as evidenced by Brexit and the policies of the current U.S. administration, has caused some companies to shift supply network design decisions and create contingency plans in anticipation of new trade policies. Continued investment in innovative supply chain capabilities will be required to meet this changing landscape."
In releasing the Top 25, Gartner also identified the following three key trends that supply chain leaders have been tapping to accelerate their capabilities:
Digitalization of Supply Chain
The past few years have seen a massive shift in companies creating digital connections within and across their supply chain operations. Leading companies view digitalization as an opportunity to not only provide agile support for existing products, but to reduce time to market for new ones. Some of the most disruptive and impactful technologies include solutions combining Internet of Things (IoT) sensors, cloud computing and advanced analytics. Simulation and optimization capabilities have moved into the mainstream and now cognitive computing capabilities, including machine learning, are in the labs of the most advanced supply chains. The digital pieces of the supply chain puzzle are coming together in a way that will enable more holistic, real-time management of the entire ecosystem.
Adaptive Organizations and Capabilities
Interrelated with digitalized supply chains is the ability of companies to be more adaptive to changes in their value chains. More specifically, leaders are creating adaptive organizations and capabilities to survive and win independent of future supply-related constraints or customer needs. "Some of the more impressive supply chain organizations have created a modular supply chain service model that allows for variants of functional capabilities to be combined into "plug-and-play" segments, such as make-to-stock, configure-to-order or engineer-to-order manufacturing profiles," said Aronow. "This approach allows them to more quickly and flexibly support different business needs and outcomes, and speeds up activities such as M&A integration."
Developing and Fostering Healthy Ecosystems
Leading companies realize that supply chain success depends on the health and well being of the critical ecosystems within and around them. The people aspect of supply chain ecosystems applies to relationships with suppliers, partners, employees and customers along the value chain. Leading supply chains focus as much on ethical sourcing and supporting customer well being, as they do on talent acquisition and development. Environmental sustainability is another priority for top supply chain organizations that set ambitious stewardship goals in the areas of emissions, water and other natural resources. Companies that are further along in developing mature corporate social responsibility (CSR) practices tend to have moved beyond mere regulatory compliance and are linking these efforts back to support for their underlying corporate strategies.
Other CGs on the list were Pepsico, 3M, Johnson & Johnson, Coca-Cola Co., Nokia, L'Oreal, Kimberly-Clark, Lenovo and Samsung Electronics.