12/29/2016
Tech Company Readies Robotic Shopping Cart
A New Jersey-based technology company is hoping retailers and shoppers alike will clamor for its new robotic shopping cart in 2017.
Five Elements Robotics, Wall, NJ, officially announced the availability of its "Dash Robotic Shopping Cart" this week.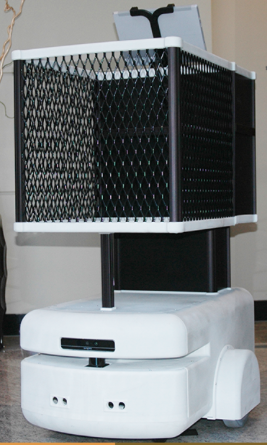 The device, which isn't much smaller than a standard-size cart, lets shoppers transfer lists from their smartphones or create one using a store search feature. Once a list is entered, the robot uses a virtual reality-enhanced interface to map out the most efficient route to the items and lead the shopper through the trip.
The robot is also equipped with a product scanner and payment system that let's customers pay as they shop. It even follows the shopper into the parking lot to unload the purchases, and then returns itself to an in-store docking station.
Five Elements said it expects the robots to start hitting stores in 2017. Last spring, multiple media reports said that Walmart was helping the company develop the Dash technology.
Walmart also has been testing robots for inventory management. CGT affiliate Path to Purchase Institute encountered one such test at a store in Roger, AR, last summer. (See image, below right.)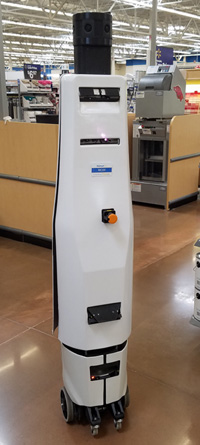 Elsewhere, Lowe's Home Improvement this fall began testing "retail service robots" at a handful of stores in the San Francisco Bay Area. Designed by Fellow Robots, San Jose, CA, the bilingual "LoweBots" (marketed by its designer under the name NAVii) answer simple questions in English and Spanish, help shoppers locate products and assist employees with routine scanning. The robots also can be used to track inventory levels and collect shopper behavior data.