Stella Artois Unveils Beer-Serving 'Robot' for the Holidays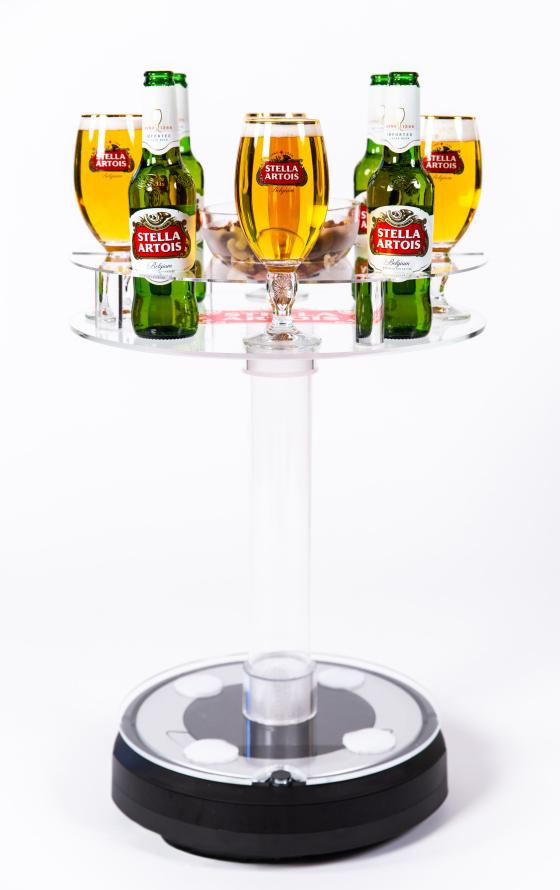 Stella Artois has introduced a unique holiday gift/marketing gimmick that could be the life of seasonal parties.
Dubbed "BART" (for "Bartending Automated Robotic Technology"), the device is mounted to the top of a robotic vacuum to become a de facto server that can bring snacks and beverages directly to party guests, saving hosts multiple runs into the kitchen. As a vacuum, it can also clean up crumbs.
The clear plastic device features a tray that can hold up to four bottles, glasses and/or snack bowls. Specially designed cup holders keep drinks from spilling in transit. The gadget is available in limited quantities for $19.99 on the brand's website. Consumers can also download 3D blueprints to recreate the device themselves. 
"Everyone can relate to hosting a holiday party and spending more time running around or cleaning up than actually enjoying time with friends and family," said Lara Krug, vice president at Stella Artois. "This year, Stella Artois decided to make consumers' lives a little easier by introducing BART."
Although Stella Artois's tongue is firmly in its cheek, BART does reflect a broader trend involving the introduction of higher-end technologies designed to facilitate everyday household tasks.
The global market for robotic vacuum cleaners, for example, is expected to reach $2.5 billion by 2021, according to Persistence Market Research.And the overall market for smart appliances will hit $5.1 billion in 2018, up from $3.2 billion in 2016, according to Statista.com. Household penetration, which currently stands at 14.2%, is expected to reach 28.6% by 2022.