Schlage Gets Smarter with Google Home Connection
Get great content like this right in your inbox.
Subscribe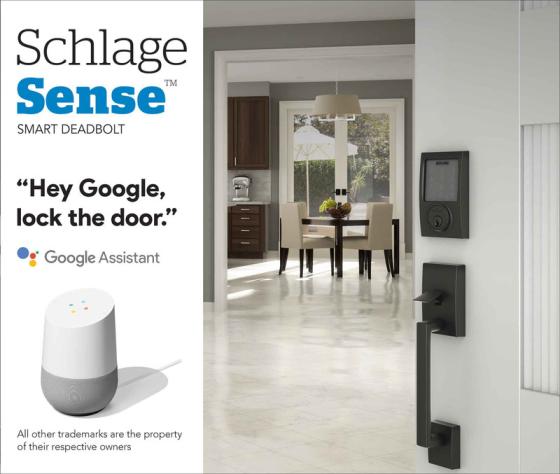 Lock manufacturer Schlage has enhanced its Internet of Things-enabled offerings by making its Sense Smart Deadbolt product compatible with Google Home. The integration demonstrates the hardware maker's commitment to improving user experience.
First announced at the Consumer Electronics Show in January, the service connects Google Assistant with the Schlage Sense Smart Deadbolt, allowing users to lock and unlock their doors with simple voice commands via compatible devices like Android phones or Apple devices. In addition to the deadbolt, consumers need to separately buy the Schlage Sense Wi-Fi adapter and app.
"Schlage has been at the forefront of IoT security solutions since launching the Schlage Sense Smart Deadbolt in 2014," said Rob Martens, "futurist" at Schlage parent Allegion. "This new integration and functionality is a testament to our ongoing commitment to raise the bar for innovation, convenience and security."
Among other features, the Schlage Sense Smart Deadbolt lets users create up to 30 unique access codes for friends and family, schedule codes to be used at specific times, check lock status remotely, and review past activity.