Readers' Choice Survey 2019: Supply Chain Execution
Get great content like this right in your inbox.
Subscribe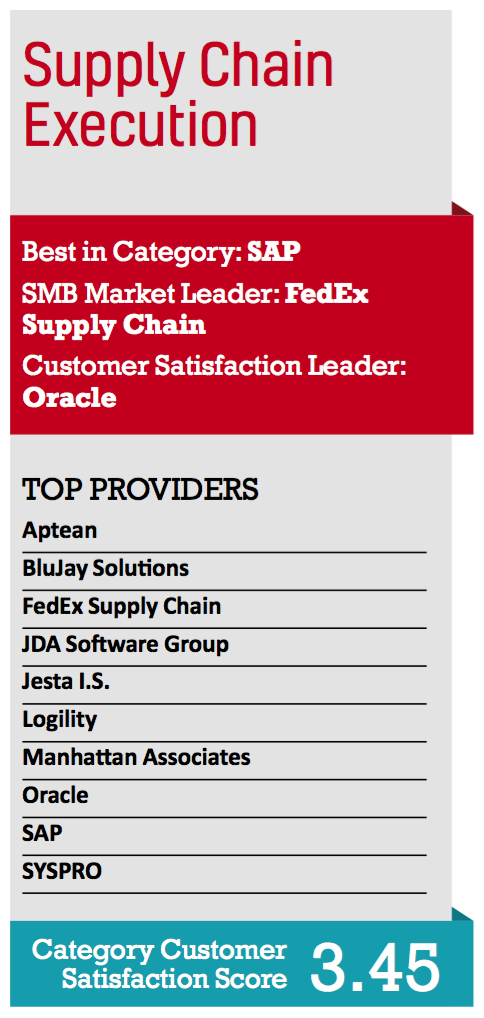 The CGT community's preferred solution providers for supply chain execution including warehouse management, transportation management, and load optimization and fulfillment.
Best in Category: SAP
SAP's reign over the Supply Chain Execution category continues for the 11th straight year (We're checking the archives to see if it dates back even farther). The company has been working hard to continue adding digital improvements that can be implemented within the S/4HANA ERP platform to bring even more intelligent capabilities.
SAP's Digital Logistics and Order Fulfillment products encompass tools for warehouse and transportation management and logistics networks, and are designed to help users address logistics demands, identify cost efficiencies, facilitate connected networks and increase transparency. Clients include Beiersdorf AG and Colgate-Palmolive.
SMB Market Leader: FedEx Supply Chain
There may be no more obvious supply chain execution solution for SMBs than FedEx, which offers a one-vendor option for warehousing, fulfillment, packaging, transportation and reverse logistics (the last of which was a specialty of the Genco business acquired in 2015). "Good customer service and easy to use," said one reader. FedEx helps companies manage inbound and outbound transportation, distribution management, network optimization, labor management, packaging/kitting/postponement, and liquidation.
In 2018, the company launched FedEx Returns Technology, a solution for returns management that lets high-volume merchants and e-tailers improve the shopper experience. New clients include denim brand Revtown and beverage maker BAWLS Guarana.
Customer Satisfaction Leader: Oracle
Reader's Choice regular Oracle recaptured a top slot this year by earning a 4.0/5 rating to take Customer Satisfaction honors. In 2018, the company enhanced its capabilities with several new releases. Updated, cloud-based tools for transportation management and global trade management help clients reduce costs, streamline regulatory compliance and accelerate fulfillment, while an improved Oracle Warehouse Management Cloud delivers heightened inventory visibility.
There's now also a cloud for blockchain applications to help CGs become more agile while building trust in transactions across their business networks; a new suite of SaaS apps enhances traceability and transparency across the supply chain.
Noteworthy: Logility
List mainstay Logility unveiled advanced analytics tools in 2018 that aim to boost retail performance through the use of AI, machine learning and social signals, along with dynamic allocation and replenishment capabilities that let multiple distribution centers work in tandem to automatically replenish merchandise at specific stores.
In April, the company opened Logility University, which offers training for supply chain optimization and retail planning excellence. A deal with COU Consulting will facilitate implementation of the flagship Logility Voyager Solutions platform, which just released upgrades designed to break through functional silos to provide "concept to customer" visibility. Clients include Kraft Heinz, Fender and VF Corp.